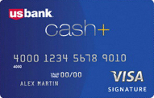 There's a new entrant in the world of 5% cash back credit cards. The U.S. Bank Cash+ Visa Signature card actually lets you choose and change the categories in which you can earn 5% and 2% cash back. Here's how it works. Each quarter, you can enroll to choose one 2% back category from a list of three options: gas stations, grocery stores, or drugstores. You then get to choose two different 5% back categories from a list of other categories like bill payment, restaurants, or departments stores. Here's a helpful visual I took from their website which includes all the 5% options: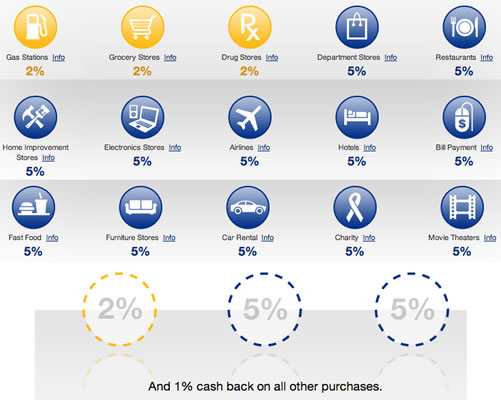 You can pick the same categories each quarter, or switch them up once a quarter based on your planned spending. The "Bill Payment" category looks pretty useful to me, especially as I pay my insurance bills annually or semi-annually in a lump-sum.
Bill Payment: 5%
Examples include service providers like Comcast, DIRECTV, AT&T and State Farm insurance.

Get cash back every month when you use your U.S. Bank Cash+™ Card to pay for the following common household bills — phone, internet, cable/satellite TV, utilities and insurance. Please note: Purchases made outside of these specific categories do not qualify.
1% cash back on everything else, with no annual fee. As you can see, this card is competitive on its own but with such flexibility I see it as a great complement to the other 5% cash back cards like the Chase Freedom, Citi Dividend, and Discover More cards. If you have multiple cards, simply choose a category that isn't covered by your other cards. My credit card "swiss army knife" now has another tool.
Another under-appreciated perk? There is no limit on the 5% cash back (or the 2% and 1% back). Most other cards have a cap of $1,500 of spending each quarter, which works out to $75. Let's say you are buying $5,000 in appliances one quarter, now you can get 5% back on the whole amount if you chose Home Improvement, good for a full $250 cash back. Or say you're spending $2,500 on airfare and hotels, pick those categories for a full $125 cash back.
Actually, you can do even better because they also offer a $25 Prepaid Visa card each time you redeem $100 or more cash back in a single redemption. Essentially, this means you can get up to 25% extra cash back, making the 5%/2%/1% rewards boosted up to 6.25%/2.5%/1.25% if you cash out at the right time. The way they set it up is more complicated than I would like, but I'll take it.
Finally, a reader notes that if you have a Platinum Checking account relationship with US Bank, you'll get yet another additional 50% bonus on credit cards rewards earned. The Platinum level requires $25,000 in deposits, investments, or credit balances including mortgages and home equity loans to avoid a monthly fee. But if you already bank or have a mortgage with them, the rewards bonus may be better than the 1% APY you'd get on your money somewhere else.