At the recommendation of reader from one of my Cost of Convenience posts, I have been reading the book Make the Bread, Buy the Butter by Jennifer Reese. In it, Reese does many similar cooking experiments where she decides whether it is better to make it yourself or buy it. I was surprised that she put a "make it" recommendation on things like hot dog buns (while hot dogs themselves are "buy it"), lard, and goat cheese. I'd never even considered making any of those things myself.
Was I wrong? Is there right or wrong? Take the example of Smucker's Uncrustables, which is a factory-made peanut butter and jelly sandwich with the crusts removed (and extra oil, sugar, and preservatives added). There are many articles out there ranting about how this invention must be a sign of the apocalypse. How hard can it be to make a peanut butter and jelly sandwich? Can't we do anything for ourselves now? I find myself nodding in agreement.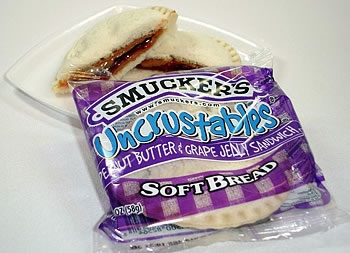 But wait.
A generation or two ago, someone "making" a peanut butter and jelly sandwich actually baked the bread from flour, shelled, roasted, ground up raw peanuts, and preserved excess fresh fruits via canning. Doing all of these things is actually not that hard. Okay, so maybe you bake your own bread, but do you grow the wheat? In the 1930s, 25% of Americans lived on a farm before widespread monoculture, and thus probably grew the flour, peanuts, and fruits on their own land.
So my takeaway was really that we should be open to the possibilities, consider the options carefully, and then each draw our own lines between D-I-Y and B-U-Y. There will always be someone more or less DIY/frugal/green than you. We all have to balance our own time, energy, and beliefs. This book has inspired me to at least try making a few things once. I wonder how my Eggs Benedict with homemade English muffins and hollandaise sauce with turn out.