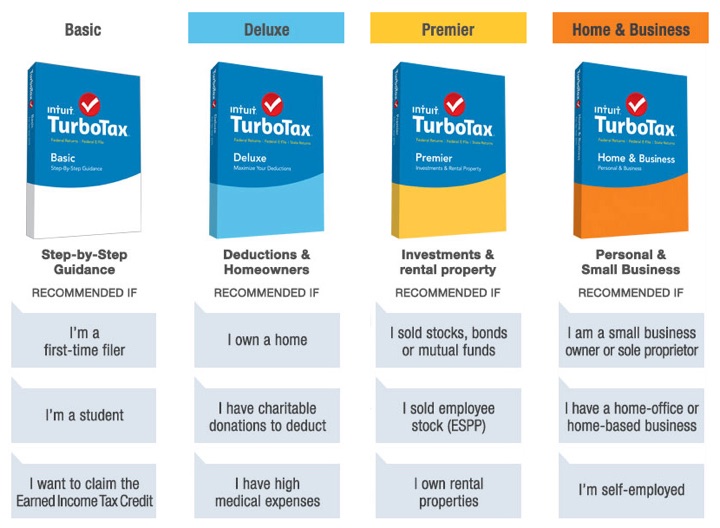 Tax prep season is coming up soon, and Amazon has some deals going on for desktop versions of Intuit TurboTax for Tax Year 2015. Here are some reasons that you may choose the desktop software version (CD or download) over their more-popular TurboTax.com online version:
With desktop software, you keep all your sensitive data (Social security number, income, etc.) on your own home computer instead of on someone else's cloud server.
The desktop software allows up to 5 Federal tax returns (including 5 separate e-Files) per product purchase. So if you have extra family members or close friends, you can share it and save money.
Depending on the promotion, buying the download/CD version can be cheaper than using the online version. Note when comparing prices: If the download/CD version only says State download is included and not explicitly State e-File, then you can complete a state return, but the State e-File will be an additional cost of $19.99 per return. (By contrast, the TurboTax.com online version charges $36.99 for the state software add-on, but it includes one state e-File.) My suggestion is to simply print out your return, mail it in for the cost of a stamp and envelope, and pocket the savings.
There are two separate Amazon promotions going on right now. First, receive up to 40% off the desktop software versions of Intuit TurboTax 2015 (either Mac or PC, download or physical CD). You can get only Federal or Federal + State. Promotion link. Expires January 30th, 2016. Example prices:
Buy a bundle including both Intuit TurboTax and Quicken on CDs, and save $20 on the entire bundle. You have to add to cart and go to Checkout in order to see the discount. Note that this is physical CD only, but both Mac and PC versions are on the TurboTax CDs. However, Quicken for PC and Mac are different prices. Promotion link. Example prices:
(Note: Please verify prices, as they have been changing. Pretty annoying actually, as only the $20 off is set, but they keep changing the original price of the bundle instead.)
At the time of writing this post, it works out to getting Quicken 2016 PC for about $10 extra. If you turned around and sold the Quicken on Amazon Marketplace or eBay, you'd probably get more than $10, which means your net price for TurboTax would be even lower than the first promotion (in exchange for some extra work).