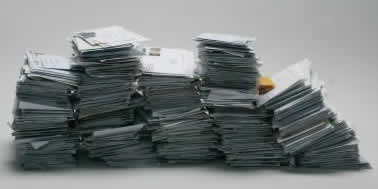 Wonder why you haven't received your rebate? It might be because they just threw it away. Above are 1,300 unopened rebate forms that were dug out of a dumpster by a San Jose Mercury reporter (need a login?). Here is an excerpt:
I know that Shu Wong of San Jose hasn't received the $3.50 mail-in rebate for a Vastech computer networking USB hub purchased at a Fry's Electronics in May. Richard Louie of Austin, Olivia Sattaypiwat of Saratoga and Buu Duong of San Jose haven't received their rebates, either.

I know this because they told me so, and because I am staring at more than 1,300 rebate requests sent to Vastech on Bonaventura Drive in San Jose. The envelopes were tossed – unopened – into a garbage dumpster near Vastech. I have two boxes of envelopes that were thrown out without being processed. In all of my years of reporting, I have never encountered such outrageous behavior against consumers.
Grrr. Did you know that rebate processing companies compete with each other based on their rebate rejection percentages? It's part of their marketing materials… essentially "We reject more than the other guys, so go with us!" Makes you feel warm and fuzzy, no? Via the Consumerist.