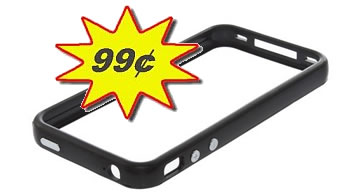 In an effort to spiff up my now 2-year-old iPhone 4 so that at least it felt slimmer and newer to me, I wanted to switch to a thin and minimalist case. The official Apple-branded black bumper case at an Apple store looked nice but was priced at a shocking $29. So I jumped onto eBay and found what appeared to be the exact same case for 99 cents. Free shipping. No sales tax. Credit cards accepted via PayPal.
Just 99 cents? How was this possible? Here's a cost breakdown:

eBay insertion fee. The price for listing an item at a fixed price is $0.50 cents. However, this is only per-listing. Over 1,000 of these cases are selling per listing, so the per-item insertion fee ends up being less than a cent.
eBay final value fee. There is also a per-sold-item fee of 11% for items in this category, so that's 11 cents.
PayPal credit card fees. The seller accepted only PayPal, which meant instant payment and that I could pay with any credit card. The standard fee for selling within the US is 2.9% plus $0.30 per transaction. That's 33 cents. PayPal does offer volume discounts, but even with $10k in monthly volume it's only a penny cheaper at 2.2% plus $0.30 per transaction.
Shipping. The item is being shipped from China using something called "ePacket". After some research, this is a joint effort between China Post and the US Postal Service to ship bulk amounts of small packages cheaply from China to the US based on total weight of all packages. It actually ends up costing less than USPS Domestic First Class which for a small 1 oz. padded envelope would cost 65 cents. The drawback is it takes a long time – the seller only promises less than 30 business day delivery (which explains the mediocre feedback rating).

Many US-based eBay sellers are fuming over the fact that it costs less to ship from China than within the US, as there is domestically there is no slower, cheaper option than First Class. It's hard to pin down the cost here, but some ePacket sellers break out the shipping separately at 29 cents. That's less than a USPS postcard stamp.

Licensing fees. Yeah, right. The packaging of the case has the same shape, but doesn't say Apple or have the fruit logo anywhere on it.
Production costs. How much did it cost to manufacture this case? There's labor, tooling, machinery, and whatever TPU/silicone/plastic costs.
Mailing supplies. The case was mailed in a proper bubble-wrap envelope with laser-printed postage label and clear shipping tape. All these things cost money, and it was obviously packed by hand and not automated machine.
Human Labor. Somebody had to spend the time to list it, print out the labels for each customer, pack everything, and deliver it to the post office.
Assuming my shipping estimate is correct, that's 11 cents to eBay + 33 cents to PayPal + 29 cents to shipping = 73 cents, leaving only 27 cents for mailing supplies, labor compensation, and oh yeah… making the actual bumper case!
Slow shipping wasn't a big deal for me, so I ordered one. 99 cents and 3 weeks later, I got my case. In comparing with the real OEM case in the Apple store, I couldn't tell any difference. (Heck, they may have been made in the same factory.) I can't believe it cost 99 cents and so many people made what I assume is an acceptable profit – the manufacturer, China Post, USPS, the seller, PayPal, and eBay. If I was a better writer, I'd end this post with something profound about how this 99 cent case captures our current worldwide manufacturing environment in a nutshell.