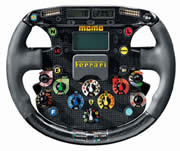 Now that we have a fixed monthly mortgage payment for the foreseeable future, we are looking ahead to our true mid-term goal of living on one income. Specifically, we'd like to live on two half-incomes when we have children. We live in one of the most expensive areas in the country. Can we do it?
Both of our incomes are somewhat comparable, so our plan is to actually pretend that only one of us is working, deposit that person's paycheck into a checking account, and work only from that checking account. The mortgage note, utilities, food, gas, all expenses will be deducted from that account. A reasonable percentage (15%? 20%?) for retirement will still be taken out. I have no idea what a child will cost, but maybe we'll take out an extra $500 a month for food and diapers as well? The second person's income will still be dealt with, but just separately.
This way, we will get as close as we can to simulating living on one income. If the checking account starts to shrink too fast, we'll have to think of ways to cut expenses further. I think this is an interesting idea that could be applied to anyone who wants to stretch into a new financial goal. You may think you can do it, but failure might be costly.
Buying a new home. Can you afford a mortgage payment that is significantly higher than your rent? You should be sure, otherwise you might be joining the million other people in foreclosure.
Kickstarting your retirement contributions. Maybe you're afraid of putting too much in a 401(k) or IRA and not being able to take it out. Why not just use savings account and stick your imagined contributions in there for a while? That way you won't have to deal with penalties.
Increasing your debt payments. Some people are afraid to pay off too much debt in case they need the money for later. An emergency fund would help solve this, but also the "pretend" debt account might be a good temporary solution.
Going back to school, switching careers, etc. Again basically the same idea – how will you react to living on less income?