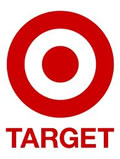 Target recently announced a new "Holiday Price Match" policy that will let you price-match with select online stores between November 1st and December 16, 2012. Full details are to be released on October 22 at target.com/morereasons, but for now the qualifying retailers will include Amazon.com, Walmart.com, BestBuy.com and Toysrus.com. Target is even offering free WiFi now in all stores to aid your price-matching activities. (Target press release)
Combine this with their REDcard credit/debit cards that offer 5% off everything at Target and Target.com, and things may actually end up cheaper at your brick-and-mortar Target than online. Sales taxes are another variable. (Does your state charge sales tax? Does Amazon charge sales tax in your state now?) Also consider if you want to provide your gift recipient the ability for easy in-store returns. An interesting stat taken from this WSJ article:
A recent survey by brokerage house William Blair & Co. found that on average Target's prices were about 14% higher than Amazon's, Best Buy's were 16% higher and Wal-Mart's prices were 9% higher. The comparison included shipping costs for Amazon, but not sales taxes.
This follows similar announcements by Best Buy and Toys R Us, although each have their fine print. I don't think I've been inside either a Best Buy or TRU in years.