I was updating my portfolio spreadsheet over the weekend and noticed that many of my funds have been a quite a roll recently. The trailing one-year total return of the US stock market is over 21%. I don't know of any market "expert" that called that, do you? Here's the return data for the Vanguard Total US Market ETF (VTI) via Morningstar: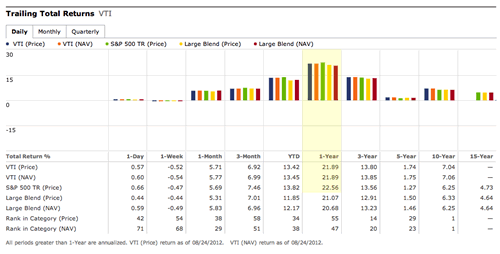 (click to enlarge)
This brings me to a great quote on "lumpy" asset returns by David Merkel on Aleph Blog:
Asset returns are not what the financial planners tell you. Asset returns are lumpy. They are feast and famine, with more feast than famine, but with enough famine scare a lot of people away. The good returns come when most are scared, and think the market is rigged. The bad returns come after a period of prosperity, and those that don't understand the market start investing, because it seems to be free money.
In other words, that 8-10% average annual return of the stock market that we always bring up? That never happens. Here are the annual returns of the Total US Market ETF for the last 10 years:

(click to enlarge)
Up, down, up, down. If you're going to invest in stocks you should expect this erratic behavior and the resulting uncomfortable feelings, and hopefully figure out how to deal with them. I recommend trying to keep things methodical with buy-hold-rebalance.