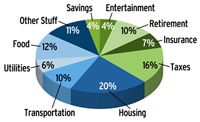 Ever since we started cutting back our work hours in order to share childcare duties, Mrs. MMB and I have kept a closer eye on our monthly spending patterns. One of the headaches for budgeters is dealing with large lump-sum payments like those for home/car repairs, healthcare bills (human repairs), and home/car/life insurance. Our homeowner's insurance is due annually (we don't use mortgage escrow anymore), life insurance is due annually, and auto insurance is due semi-annually.
We use State Farm for all of these insurances due to our positive claim experiences in the past and their multi-line discount. When I asked about payment options, they told me about the State Farm Payment Plan (SFPP). I'm sure that most other major insurers have a similar program.
Pros
Steady monthly bill. With this plan, all your insurance bills get averaged into equal monthly, quarterly, or semi-annual payments. We chose monthly as that is how we visualize our spending.
Float. Let's say your total bill is usually $1,200 once a year. If your policy is renewing today, then instead of paying $1,200 upfront now, with SFPP you pay $100 per month spaced out over the next 12 months. So you're gaining some additional float time on your money. If you're already paid up then you have to wait until renewal to start an SFPP.
Pay with credit card. You can use a credit to pay most bills already, but some auto-pay plans require a linked checking account. SFPP allows you to pay with a recurring charge on any Visa/Mastercard (no American Express). This is good news for those earning credit card rewards.
Chose payment due date. I don't use this, but if you find it convenient you can select your specific payment due date each month (any day except 29th, 30th, or 31st).
Cons
Fees. At least in my area, SFPP costs $1 per month for a monthly payment plan. If your bill is large enough, then the free float that you're getting may offset this $12 a year (even with today's piddly interest rates, assuming you use a high-yield savings account). However, even without the float, a dollar a month may be worth it to you in exchange for simpler budgeting.
Must sign-up for automatic payments. This could be a pro for some people, but I know that others like to keep complete control when paying bills. If you wanted to cancel the auto-pay, it may not happen immediately and you may have to wait an extra month.
Possible confusion. When you cancel one policy and keep others, mixing all the payments together in this manner can make the refund math a bit confusing.
We signed up and look forward to the added simplicity.