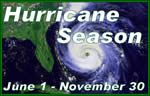 June 1st is the start of Hurricane season for the East Coast, it's always Earthquake season on the West Coast, and it's near peak season for Tornadoes in many states, so in general it's a good time in general to check up on your disaster plans. While there are several places like FEMA and the Red Cross that will have extensive lists of what you should have, but really, do you keep 3 days worth of food in your house, your car, and at work? Okay, I'm sure some of you do, but I don't.
Instead, I liked reading about simple and easy things you can do that will still make a big difference if you are out of power and other services for several days. Most of these things are free, or involve slight changes to your buying patterns on stuff you would have bought anyways.
Food: Stockpile and Rotate Your Pantry
I wonder if it is necessary to buy 20 cans of beans or military MREs and stick them in a box somewhere. Chances are that most of us could live off of what we have in our cabinets for a least a few days. To improve on that, just be aware and buy extra of certain staples when they happen to be on sale. Canned soups, vegetables, fruits, peanut butter. Cereal, crackers, pasta, rice. Don't let them just sit there though, buy more when needed and then eat the items before they get stale. I just put an empty duffel bag in the pantry with a manual can opener inside so I could throw some stuff in there and run if really needed. If the power does go out and you stay at home, remember to eat the perishable food in the refrigerator first, followed by the food in the freezer, so that you can saved the canned goods for last.
Water
If you buy bottled water, keep an extra case, and rotate as needed by the expiration dates so that the water stays fresh. You can also store tap water in old 2-liter soda bottles which are sanitized first with a bit of chlorine bleach. This should cost essentially nothing. During an actual emergency, another trick is to save and use the water held in the tank of your hot water heater.
Cooking and Heating: Keep Your Propane Tank Halfway Full
If you have a propane grill, you can use it for cooking when without power or natural gas. Do not use your grill indoors, though, to avoid carbon monoxide poisoning. If you live in an area where it gets especially cold, there are indoor propane heaters with built-in sensors that will let you heat your house safely. Propane is a lot easier to store safely than gasoline!
Transportation: Keep Your Gas Tank At Least 1/4 Full
So, where is the safest place to store large quantities of gasoline in an emergency? Your car! So stop seeing how close you can get to "E" before filling up. Besides, if you really need to go somewhere in an emergency, you need to go, not stop by at the nearest gas station first. This way you'll be a good 50-100 miles away before having to stop. Also, having lots of gas means that you can…
Power: Use Your Car Engine For Electricity
I think a great tool to have around is a cheap power inverter (available for $30 including shipping) that will let you plug in lights for your house, a radio/TV/laptop, or just charge your cell phone using your running car. Just plug into your cigarette adapter (lower watts) or connect to your car batter (higher watts). Comes in mighty useful for road trips as well.
Everything Else: Cash
No, it won't be able to earn any interest, but having a decent amount cash handy can be very helpful. Stores may not take credit cards when there is a blackout due to fraud, which I found when trying to buy some things at my local hardware store during a blackout. Coincidentally, there were having a special on those hand-crank radio/flashlight combos so I picked one up. 🙂 I'm not sure how much is a good amount to have in the house safebox. Between $100-$500?
This list isn't exhaustive, just what I could think up, so please share your own ideas in the comments.