Discount stock broker Charles Schwab cut the fees on six of its proprietary exchange traded funds (ETFs) on Monday (official press release).
Schwab U.S. Broad Market ETFTM from 0.08% to 0.06%
Schwab U.S. Large-Cap Growth ETFTM from 0.15% to 0.13%
Schwab U.S. Large-Cap Value ETFTM from 0.15% to 0.13%
Schwab U.S. Small-Cap ETFTM from 0.15% to 0.13%
Schwab International Equity ETFTM from 0.15% to 0.13%
Schwab Emerging Markets Equity ETFTM from 0.35% to 0.25%
The press release also contained a comparison of expense ratios for several similar ETFs from different providers. Price war!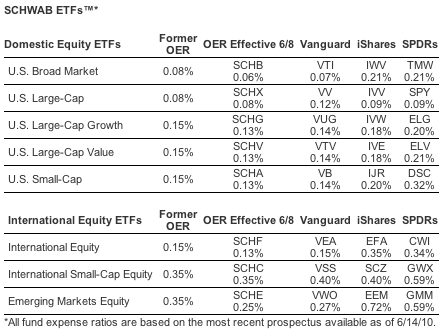 For practical purposes, you would often have to have sizable balances before moving ETFs just because of the slight differences in many of these ETFs. Every 0.01% difference means $1 a year for every $10,000 invested (yup, one dollar). Every bit helps, but consider things like tax consequences and trade commissions first.
But this is still good news for me, as my 401(k) administrator recently approved the addition of a self-directed brokerage option available only through Charles Schwab. They also said they plan to start a TIPS and two regular Treasury ETFs this summer. There are no trade commissions charged on Schwab-branded ETFs when traded inside a Schwab account (see previous post with outdated expense ratios).
Commission-free online trading of Schwab ETFs is available to individual investors at Schwab, to the more than 6,000 independent investment advisor firms who use Schwab's custodial services through Schwab Advisor Services and through Schwab retirement accounts that permit trading of ETFs.
Fidelity Investments offers free trades on iShares ETFs and Vanguard offers free trades on their own Vanguard ETFs.