If you're like me, your 401k plan comes with a little newsletter each month. A common theme in the world of personal finance advice is to nudge up your savings by one more percentage point a year.
For the "average" person, this is probably not a bad idea. According to the PSCA's 52nd Annual Survey of Profit Sharing and 401(k) Plans, the average contribution to a retirement savings plan in 2009 was about $2,114 at a rate of only 5.5% based on a $38,428 annual salary.
Assuming yearly salary raises of 3% and a 6.3% annual rate of return, bumping up that contribution rate by just one percentage point, to 6.5%, could potentially improve savings by close to $6,000 in 10 years and more than $46,000 in 30 years. [source]

But who's average? The NY Times brings us another pretty interactive calculator where you can input your own numbers and play around. You'll see what would happen if you increased your savings by one percent, and also what would happen if you increased your savings by 1% every year – up to a max of putting away 16% per year.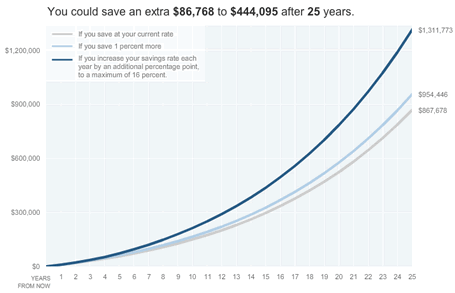 I always have to remind myself that $100,000 won't buy nearly the same amount of stuff in 20 or 30 years. I need to check my math, but you could simply put down how much you expect your raises and investments to outpace inflation, which should provide inflation-adjusted amounts.