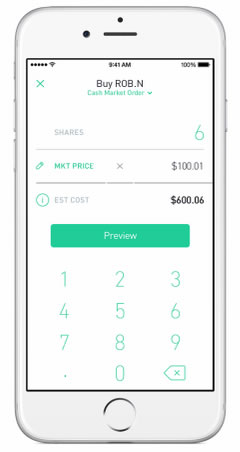 Updated review in August 2015 to include new Android app, new order types, and more.
Fintech start-up Robinhood wants to "democratize the financial markets" by creating a mobile-first brokerage that offers unlimited free trades with no minimum balance requirement. That is a pretty bold move, and I was skeptical when they started getting noticed in late 2013.
I started out as a beta user in mid-2014 with their beautiful but manually-installed iPhone app. They officially opened to the public in March 2015. As of August 2015, they have both an Apple iOS (and Apple Watch) and Android app and have processed over 2 million free trades. Here's my updated review based on my experiences with them.
Application process. You must provide your personal information including Social Security number, net worth, income, investing experience, etc. This is the same as any other brokerage firm, but this may also be the first such account for many users. Everything was done online; there were no paper documents that required mailing or faxing.
Core features.
Yes, the app really gives me $0 commission trades with no minimum balance requirement. That means you could open account, put in five bucks, and buy a single share of Zynga (ZNGA) if you wanted to (maybe two on a bad day…).
Robinhood now supports market orders, limit orders, stop limit orders, and stop orders. Certain orders may be entered as good for the day or good till canceled (GTC).
You can open an individual cash or margin account.
Customer service is best through their e-mail support@robinhood.com, but they have added a phone number now during market hours (9:30am – 4:00pm EST) at (650) 940-2700.
Along with all the other legit brokerage firms, Robinhood Financial is a member of the SIPC which protects the securities in your account up to $500,000. Data is encrypted with SSL. Apex is their clearing firm.
Funds transfers. You can manually link any bank account with your routing number and account number, but you can also directly use your username and password at these banks: Chase, Bank of America, Citibank, Wells Fargo, U.S. Bank, Charles Schwab, PNC, Silicon Vally Bank, and USAA. ACH transfers are free and take approximately 3 business days (same as other brokerages).
Robinhood recently added an automatic deposits feature where you can schedule ACH transfers on a weekly, biweekly, monthly, or quarterly basis.
What's missing? Getting free trades is great, but I think it's also important to know what you won't get, at least right now:
You must access your account via a mobile Apple iOS or Android device (iPhone, iPad, iPod Touch, Android phone, Android tablet). Web interface is "coming in 2015".
Broker-assisted phone trades are $10 each, according to their fee schedule.
Electronic statements are the default. I don't even see an option to enable paper statements in the app, but according to their fee schedule paper statements cost $5 a pop.
As of August 2015, Robinhood does not support ACAT transfers, so you can't move over your existing assets from an outside brokerage. (Or move out your assets via ACAT either, I'm guessing.)
How do they make money? For now, Robinhood will make money the same way other brokers do: collect interest on your idle cash, charge you interest for margin loans, and sell order flow. The most innovative prospect is to the plan to sell API access to other financial apps.
The fact that Robinhood sells order flow may leave you with a slightly worse execution price as compared to other brokers with more complex order routing. If you are making large value trades, then this small percentage difference may add up to something significant that matters more than commission price. With my tiny order volume, I am fine with them selling my order flow if they are giving me commission-free trades.
User interface. Over the last 10 years, I've opened an account at the majority of the "discount" brokerage firms. I've had $0 trades before, along with $2 trades, $2.50 trades, $4.95 trades and so on. What makes Robinhood special is their modern, app-centric approach. I agree with this quote from Wired:
But the app's simplicity is meant to be about more than style. Ease of access and understanding is meant to make Robinhood compulsively engaging for a new generation of investors that don't find the stock market very accessible from the mobile screens at the center of their lives.
Even though I don't trade frequently, I still check the app all the time. More often than my primary Vanguard account. Why? Because it's so easy. One tap on the Robinhood app logo, and either a quick 4-digit PIN or thumbprint with a newer iPhone. It's a pet peeve of mine to have to type in a 16-character password on a tiny keyboard just to check a balance. I think other finance apps can learn a lot from Robinhood in this respect. I think only Mint and Robinhood support Touch ID on my phone.
Screenshots.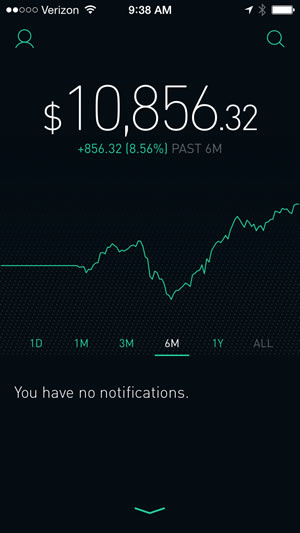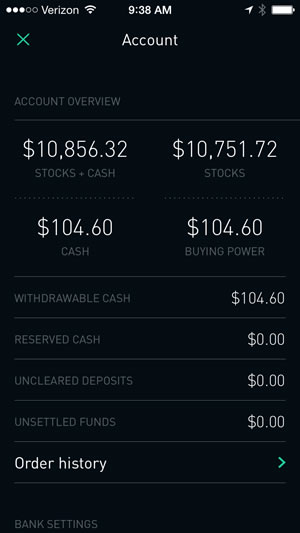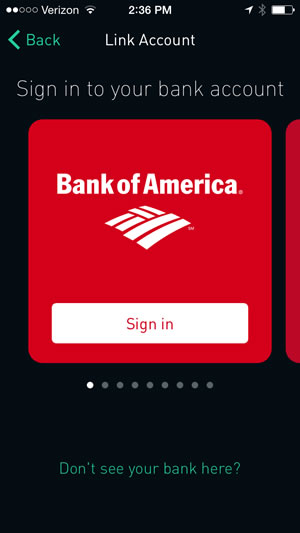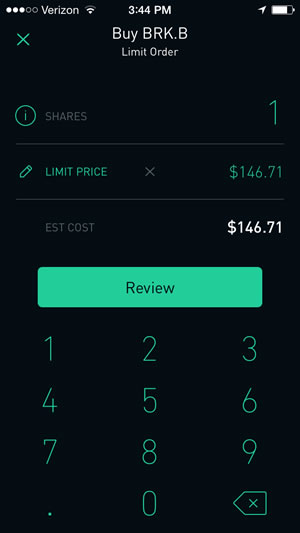 Recap. Robinhood delivers on their free stock trades with no minimum balance promise. The app-only user interface is clean and intuitive. Customer service is a bit lean, but my requests were responded to within a day or so. They continue to make incremental improvements every month. I'm still skeptical about whether they can make the economics work over the long run, but they do appear to be streamlining wherever they can.
More: Fee Schedule, Official FAQ, Techcrunch, Buzzfeed