The hot real estate news this week is that interest rates on mortgage loans rose abruptly, thanks to some international happenings influencing Treasury rates here. According to this NY Times article, the national average for the 30-year fixed-rate mortgage jumped to 6.74 percent yesterday. At the beginning of the year, the average was only 6.18 percent.
As a potential homebuyer, my question is, will this be make homes more or less affordable? On one hand, rising interest rates will mean a bigger monthly payments for the same loan amount. But on the other, such higher payments may also start pushing home prices downwards. I'm sure the answer to this question is extremely complex, but I started to run some simple scenarios anyways.
Effect of Interest Rates on Monthly Payments
Here what happens when the rates change on a $300,000 loan: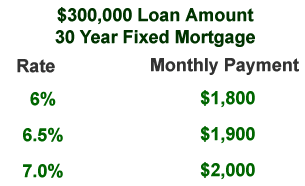 As a rough estimate, when the interest rates rise by 1%, the mortgage payment rises by 11%. (Used the calculators at Dinkytown.)
Effect of Interest Rates on Affordability
For better or worse, lenders determine how much house you can afford by figuring out a maximum monthly payment based on your income. (I've written before about how these lending ratios can vary.) So if you keep the same maximum payment and the rates rise, then you can only afford a smaller loan amount. Here are some numbers starting with the previous example of a $300,000 loan.
So? Good or Bad?
I'm just using loan balances here, so I'm ignoring the dampening effect of house downpayments. And again, actual housing prices don't fluctuate according to such simple rules. Maybe housing prices won't drop enough to counter the higher payments from future interest rate hikes.
Still, one thing is for sure – people who have been shopping for homes may not be able to afford what they thought they could or maybe even were already pre-approved for. Rising interest rates can also affect the housing market in other indirect ways. For example, when people with adjustable-rate mortgage try to refinance to a lower fixed rate, they'll either be rejected or still be faced with a much bigger mortgage payment. This may lead to more foreclosures and lower prices. At least I selfishly hope so…