Now that our portfolio size has become more significant, I want to keep on top of things better while still avoiding most of the market noise. I took some ideas from how others share investment return data (see here and my 2011 year-end returns post) and will try each month to update the trailing total returns for the major asset classes that I find useful. I am using passive ETFs to track asset classes, as they represent "real" investments that you can buy and sell.
Asset Class
Representative ETF
Benchmark Index
1-Mo
1-Year
5-Year
10-Year
Broad US Stock Market
Vanguard Total Stock Market (VTI)
MSCI US Broad Market Index
2.52%
17.13%
1.77%
7.31%
Broad International Stock Market
Vanguard Total International Stock (VXUS)
MSCI All Country World ex USA Investable Market Index
2.74%
-2.25%
-4.01%
7.80%
Emerging Markets
Vanguard Emerging Markets ETF (VWO)
MSCI Emerging Markets Index
0.45%
-6.18%
-0.73
14.68
REIT (Real Estate)
Vanguard REIT ETF (VNQ)
MSCI US REIT Index
-0.10%
20.04%
3.92%
11.22%
Broad US Bond Market
Vanguard Total Bond Market ETF (BND)
Barclays U.S. Aggregate Float Adj. Bond Index
0.10%
5.90%
6.66%
5.46%
US Treasury Bonds – Short-Term
iShares 1-3 Year Treasury Bond ETF (SHY)
Barclays U.S. 1-3 Year Treasury Bond Index
0.00%
0.28%
2.82%
2.77%
US Treasury Bonds – Long-Term
iShares 20+ Year Treasury Bond ETF (TLT)
Barclays U.S. 20+ Year Treasury Bond Index
-1.31%
22.02%%
11.78%
8.54%
TIPS / Inflation-Linked Bonds
iShares TIPS Bond ETF (TIP)
Barclays U.S. TIPS Index
-0.31%
8.10%
7.96%
n/a
Gold
SPDR Gold Shares (GLD)
Price of Gold Bullion
4.94%
-7.60%
19.81%
n/a
In addition, for relative comparison, I'll update a chart each month comparing the 1-year trailing returns of the major asset classes. This should be useful in determining which areas I should be rebalancing my asset allocation. Instead of performance-chasing, I'll be buying more of the worst-performing asset classes. Note that I do not necessarily invest in all the listed asset classes, see my personal portfolio for more details.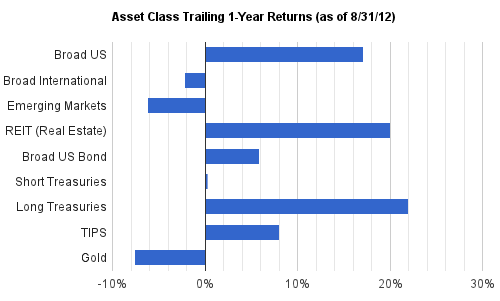 Listed are total returns (includes dividends and interest) as calculated by Morningstar as of 8/31/12. All periods longer than one year are annualized. NAV returns are listed except in the case of GLD, as there is not a significant premium/discount to NAV for the other ETFs and the NAV returns match the equivalent Vanguard mutual fund returns. In certain cases, I am using the long-term returns of the equivalent Vanguard mutual funds as Vanguard ETFs are simply a different share class of the mutual funds, share the same underlying investments (VXUS/VTIAX, VWO/VEIEX, VNQ/VGLSX, BND/VBLTX).