» The Finance Buff has an interesting post on the power of the default option. Most people don't bother to opt-out.
Businesses know about the power of the default option. They select it very carefully in order to influence your decision making. Is it a surprise that most people choose the 3-out plan from Netflix? As a consumer, you have to recognize that the default option thrown at you is not necessarily in your best interest. Don't just blindly follow the default option, especially if the default is doing nothing.
This applies to everything from 401(k) participation to organ donation to the size of your dinner entree. This also explains why Zecco only pays 1% on cash balances by default, even though by sending in one sheet of paper you can increase that to 4.38%.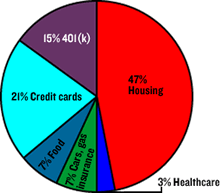 » UmbrellaBank is offering a new savings account paying 5.50% APY until 12/31 7/31. $1,000 minimum to open, $1,000 minimum to avoid fees. It's nice to see a rate guarantee, but they also have a history of low bank safety ratings, so I'd keep your balances under FDIC limits. Don't miss my Ultimate Rate Chaser Calculator if you're pondering a move. Via BankDeals.
» JLP points to an article that profiles families earning $46k a year and where it all goes. The pie chart was what caught my eye. What would my spending chart look like? Or yours?