Months ago I did a review of Prosper, a website which allows you to earn interest by lending money directly to others (Prosper takes a small cut). After looking at the mechanics of their system as well as their own historical loan data, the main conclusions from my initial review were:
You should avoid loans from those with poor credit rated E and HR like the plague, as they have negative annual returns ranging from -10% to -30% annually. Prosper lenders as a whole priced this subprime market very poorly.
If you stick exclusively to the borrowers with the best credit score (rated AA and A), manage your cash carefully, and the default rates don?t keep rising, you may achieve average net returns of about 8% annually.
A key part of that last sentence is if the default rates don?t keep rising. Sure the initial interest rate may be a snazzy 10-12%, but these loans are all three years in length, and my theory was that as time goes on more and more people will default on these loans. Or maybe some will vary between being late and becoming current again, so that the return stays pretty constant. Now that there is more history in their database, I decided to run some number to test this theory out.
As in my original review, I took all the loans that originated in the first half of 2006. Then, I looked at the ROI (average annual return after taking into account defaults and Prosper fees) as observed on different dates ranging from October 2006 to June 2007. Here are the results: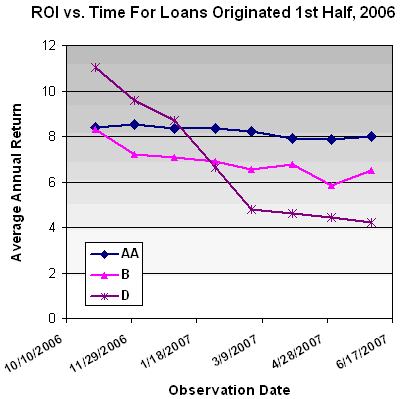 Summary
It would appear that there is indeed a gradual "decay" of annual returns, with the rate of decay increasing as you drop into the lower credit grades. Although this is not conclusive evidence, it is something to consider if you are expecting a certain level of performance. If I were to lend on Prosper, I would stick exclusively to the AA-rated loans.
Even with AA-rated loans, right now we are less than halfway done with these loans. If these trends continue, by the end of the 3-year term, I expect the average net return to be about 7.6-7.8% annually. Again, this is an average value, and one would still need enough money spread across a number of loans to protect from individual loan risk. 7.7% actually isn't bad, and is almost enough to make me commit some money to this if the spread above FDIC-insured equivalents remains high enough. I'm currently remaining on the sidelines until I see how the marketplace responds to any federal interest rate hikes.