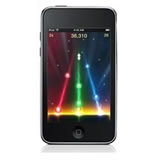 My parents gave me a very generous present of an iPod Touch for Christmas 2009. It came in very handy while traveling and at the gym, but then I got an iPhone (business expense!) and stopped using the iPod. It felt tacky to sell, so I waited. Finally, with all the talk about selling "old" iPhones right now, I figured it was time to sell (and use the money to help pay for a plane ticket for a grandparental visit, of course). I didn't want to mess with Craigslist or eBay, as right now I just want it done quick and easy. There were a lot more options out there than I thought!
Details and condition: Apple iPod Touch (3rd gen, 64 GB). I don't believe she paid the original retail price of $399, but it was at least in the mid $300s. Fully functional with original box, charging cable, and headphones. The screen is still smooth as glass and unscratched, but the metallic backside has many small scratches.
Real World / In-Person
Here are the options I found if you prefer to walk into a physical store and sell your electronics.
| | | |
| --- | --- | --- |
| Vendor | Offer Price | Details |
| Best Buy | $87.54 | Store-credit only |
| Radio Shack | $75 | Store-credit only |
| Gamestop | $54.40 | Cash value quoted. Get 25% more as store credit ($68) |
Online / Mailing it in
With these websites, you get a quote and then mail in your gadget using a prepaid shipping label. Once they inspect and verify, they will send you payment via gift certificate, check, or PayPal. There is the added risk of loss during transit, or a rejection if they disagree on condition, but most of them will ship it back for free.
| | | |
| --- | --- | --- |
| Vendor | Offer Price | Details |
| Amazon Trade-in | $108.75 | Amazon.com credit only |
| eBay Instant Sale | $81 | Paypal only |
| NextWorth | $80 | Paypal, Target gift card, or check |
| Gazelle | $69 | Cash quoted via Paypal or check. Get 5% extra with Amazon gift certificate |
| BuyMyTronics | $63 | Check or PayPal |
The wide range of prices shows that you should definitely compare prices when selling this way. That was surprising, considering Apple products are nearly commodities now. I shop at Amazon.com regularly and value Amazon.com credit at least at 95 cents on the dollar, so I went with them. The Amazon brand backing helped as well. I probably could have gotten more if I listed on eBay (remember to account for eBay and Paypal fees), but I went ahead and printed out the prepaid UPS label and dropped it off at the nearest UPS store. I'll update this post if I have any issues with the sellback. Please share your own experiences in the comments.