In a recent issue of Money magazine, Walter Updegrave shared the results of a recent survey by insurer Northwestern Mutual and health education company LLuminari. It showed that people who perform financial planning tend to feel happier than those who don't. The article is also online here – Save for tomorrow, be happy today.
You have to be a little careful in reading the diagram provided, and realize that there are separate components going on (the colors help):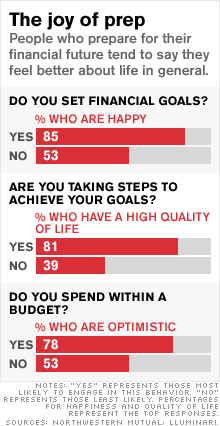 Economists, psychologists and others who study happiness find that people who have a sense of control over their lives cope better with stress and live more happily, while those who feel powerless are more likely to be depressed.
Now correlation doesn't necessarily mean causation. It could be that those who are happy are more likely to budget. But in general, I agree that consciously choosing how I spend and invest my money makes me feel in control of my future, which makes me happy. Realizing the abundance of choices and alternatives out there is one of the best things I've learned from blogging.
(It also helps keep my mind off of all the things I can't control, like a bailout bill with $150 billion of pork attached. Wooden arrows? Nascar race tracks? How is this related at all???)