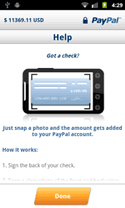 PayPal announced today that you can now deposit checks in your PayPal account via photo upload from both Apple iOS [iTunes] and Android OS devices. Just sign the back of the check, take a picture of the front and back, type in the amount, and submit. (If you have a iPod Touch, iPad, or Android tablet with camera, that works too.) You are free to withdraw the funds into your linked bank account. Via MobileCrunch.
This is pretty cool, as it basically allows remote deposit of checks into any bank, not just Chase or USAA. Reading through the Terms & Conditions, you are limited to total deposits of $1,000 per day, and $3000 per month. You're supposed to keep the check for 15 days to verify that it went through, and then destroy the check.
The only thing to consider is do you trust PayPal? Long-time readers may know that I have an uneasy relationship with PayPal. They've frozen my seller accounts before with no evidence and required all my personal information (SSN, credit report, driver's license, utility bills) to release the money, and they've never been known for their stellar customer service. But I still use them when the alternatives are too inconvenient and the dollar amounts are small, because honestly I'm too lazy (and like I said, they already have my info). I simply operate on the principle that they can freeze my account again at any time, so I never leave more than $20 in my account. I'll definitely try this app out the next time I get a small check to deposit, but only for small deposits that I'd be too lazy to deposit at a branch and it will be withdrawn immediately.