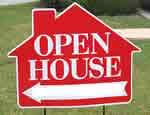 It's becoming our weekly ritual to browse Open Houses on Sundays. We usually try to have a theme, from "cheap condos we'd eventually outgrow" to "houses that would be a stretch, but we could live in forever". Last week, we actually did "beautiful multi-million dollar homes we'll never afford" just for fun and possible remodeling ideas.
More and more short sales
One common theme that we've been noticing across the board is more short sale houses. Whenever you see a house listed for sale that just seems too cheap, it's likely a short sale. A short sale is a type of pre-foreclosure situation where the buyer is already in default of the mortgage loan, but the bank has not foreclosed yet. Here, both the lender and borrower agree to sell the house for a price that won't pay off the entire loan balance. The lender avoids a long foreclosure process and potentially lower price upon the eventual auction, and the borrower prevents an foreclosure from completely killing their credit history.
From the buyer's perspective, it can be both good and bad. You might get a good deal, but it can get complicated. Instead of a seller accepting your offer within 24 hours, you're looking a 2-4 weeks while the lender takes multiple offers, checks you out, demands pre-approval letters and sometimes large upfront deposits. There are more details than this, but that's my basic understanding.
Flip or Flop
Today, we got to see the results of a house flip gone bad, just like on the TV show Property Ladder. They had the classic mistakes – they took too long with the remodel, they priced it too high and stayed stubborn, and they ran out of money before they could sell. Here's the general timeline:
6/05: Bought house for $850,000. Remodeled… adding the obligatory hardwood floors, fixed up the bathroom, did some painting.
7/06: Listed for $1,100,000
8/06: Dropped to $1,050,000
9/06: Dropped to $1,000,000
3/07: Taken off market, decided to wait things out
8/07: Short sale at $800,000
The carrying costs for the loan were probably around $5,000 a month, although I think the "owners" did live in it or at least rented it out, as there was clothes hanging in the closets. Add in the remodeling costs, and things look pretty bleak. Even if they do get a short sale, forgiven debt is considered taxable income. I wish I could feel sorry for them, but the signs seem to indicate that just they got too greedy.