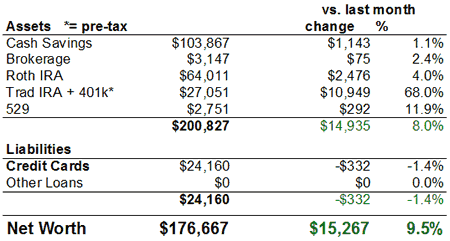 About My Credit Card Debt
If you're a newer reader, you may have some concerns about my high levels of credit card debt. I'm actually borrowing money for free at 0% interest, putting it in high yield savings accounts that earn me 5% interest or more, and keeping the difference as profit. Along with other things, this helps me earn extra side income of thousands of dollars a year. Recently I put up a series of step-by-step posts on how I do this. Please check it out first if you have any questions. This is why, although I have the ability to pay the balances off, I choose not to.
Commentary
Retirement and Brokerage accounts. Last month's update was right before the drop in the Fed Funds rate, which resulted in another big jump in our account values this time around. In addition, I made a large $10,000 contribution to my Self-Employed 401k at Fidelity.
I'm glad to get our retirement contributions back on track since we haven't done very much in that department this year. I still have to figure out how much more I want contribute this year, as I do have a some flexibility with the account due to the ability to add profit-sharing contributions. Another thing on my mind is whether to contribute to a Non-deductible IRA this year.
Cash Savings. This actually didn't go up as much, due to the big contribution to our 401k.
Quick summary. Our non-retirement funds went up slightly to $85,605, which puts us at almost 86% of our mid-term goal of $100,000 towards a house downpayment. Total net cash is at $79,707 (+$1,475 from last month). Take a look back at our previous net worth updates here.