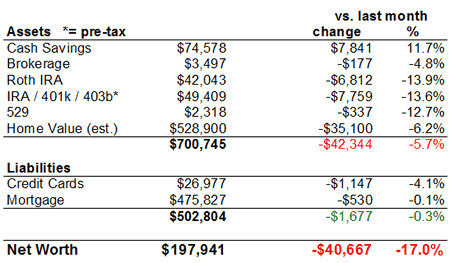 Credit Card Debt
If you're a new reader, let me start out as usual by explaining the credit card debt. I'm actually taking money from 0% APR balance transfer credit cards and instead of spending it, I am placing it in high-yield savings accounts that actually earn 3-4% interest or more, and keeping the difference as profit. I put together a series of step-by-step posts on how I do this. Please check it out first if you have any questions. This is why I have credit card balances – I am not accumulating more consumer debt.
Retirement and Brokerage accounts
Well, it's time to uncover my eyes and peek at my financial statements. My retirement accounts have lost another $15,000 (14%) over the last month, in addition to the $12,000 from last month. I did not make any further investments besides the $5,000 in early October.
However, I am still planning to max out my 401k salary deferral by the end of the year, and will still be buying stocks according to my previously set asset allocation plan. I still believe that stocks are the best bet for inflation-beating returns in the long run.
Cash Savings and Emergency Funds
I remain a big proponent of emergency funds held in safe cash or cash-equivalent accounts. We now have approximately 7 months of our actual monthly expenses saved up. Increasing this is a lower priority than the 401k contributions, though.
Home Equity
I am testing out a new way of estimating our house's value. First, I take the average estimates provided by Zillow, Cyberhomes, Coldwell Banker, and Bank of America. Then, I shave off 5% to be conservative and subtract 6% for expected real estate agent commissions (11% total). I use this final number as my estimate for home value.
I know that each of these sites can be inaccurate, but I am primarily looking for overall trends based on recent comparable sales, and this should take care of that with minimal effort. Feedback is welcome. The mortgage amount is taken directly from my loan statement. Which reminds me, I might need to see if I can argue with the tax collector about my property tax appraisal.
We are still socking away about half of our take-home pay each month, but this looks like the worst drop ever in our net worth. Let's hope it stays the worst! 😉
You can see our previous net worth updates here.