You read it correctly, a new site called NotchUp is trying to replace pricey headhunters by actually paying people hundreds of dollars to interview. The twist is that they are actually looking for people who are already happily employed! From this article at NetworkWorld:
You say you wouldn't interview with Company X if they paid you?

A startup called NotchUp is betting that's a bluff.

Debuting this morning at Network World's DEMO 08 in Palm Desert, Calif., NotchUp founders Jim Ambras and Rob Ellis tell me that 15,000 people a day are signing up for their new eBay-like employment service – based solely on word of mouth. The founders are convinced employers will pay hundreds of dollars directly to people they would like to interview — especially those not actively in the job market — because it will bring them better candidates faster.
So how does it work?
To get started, simply register, create a profile (which is similar to an online resume), and set an interview price. Your interview price is the price at which you'll talk to prospective employers. Once you've created your profile, companies will search it and make you paid offers to interview if you have the skills and experience they're looking for. Accept the offers you're interested in, go to the interviews, and we'll collect the money and transfer it to you.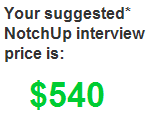 It's free to join, and you can even estimate how much you should ask for an interview with their calculator. For the type of professionals that they are targeting, I would actually say the price is about right. You'd still have to be careful about your current employer though, don't want to ruffle any feathers. It'd be cool if this company merged with LinkedIn or something. Thanks to Stephen for the tip.