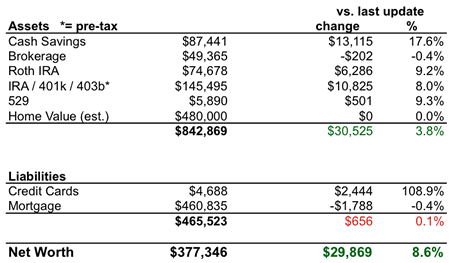 Lack of Recent Updates
Up until last December, I had done regular monthly updates of our net worth for five consecutive years. However, recent personal events made me much less interested in detailed, analytic planning towards early retirement. As a result, I have barely checked any of my statements in the past few months, other than to make sure they weren't negative. I think I made a few trades here and there, but for the most part haven't bought or sold any stocks to maintain my asset allocation. I haven't even converted my Traditional IRAs to Roth IRAs like I had planned, or made any IRA contributions for 2010.
Instead, reading blogs and other financial news has simply been a recreational escape for me, and I think my blogging has reflected that. I still had fun learning about ways to save money here and there, and enjoy keeping track of other market changes and various offers out there.
However, it's time to catch back up a bit! Here we go…
Credit Card Debt
In the past, I have taken money from credit cards at 0% APR and placed it into online savings accounts, bank CDs, or savings bonds that earn 4-5% interest (much less recently), and keeping the difference as profit. However, given the current lack of great no fee 0% APR balance transfer offers, I am currently not playing this "game". My balances are simply monthly charges that I have not yet paid in full when due.
If you're looking for a competitive offer, Citibank is offering 0% APR for 15 months with a 3% balance transfer fee.
Income
We're both still working, but will be taking some unpaid time off in April which will reduce income temporarily. Our monthly expenses are still much less than our (regular) income, so while we may eat into savings a bit, I expect to bounce back into the positive very quickly.
Retirement and Brokerage accounts
Near the end of last year, I had gradually moved $30,000 into a brokerage account at OptionsHouse to invest in ETFs due to their $3.95 trades. In my usual way, I then thought about switching instead to WellsTrade since I now had the $25,000 required to get 100 free trades per year. Stuff happened, the application process took too long, I got distracted, and the money is still sitting mostly non-invested. Grrr.
As stated above, besides our regular 401k contributions, we haven't made any real moves in our retirement accounts either.
The stock market has done relatively well in the meantime, with the S&P 500 nearly hitting 1,200. Our total retirement portfolio is now $269,538 or on an estimated after-tax basis, $233,164. At a theoretical 4% withdrawal rate, this would provide $777 per month in after-tax retirement income, which brings me to 31% of my long-term goal of generating $2,500 per month.
Cash Savings and Emergency Funds
We continue to keep a year's worth of expenses (conservatively set at $60,000) in our emergency fund. It's still a nice warm safety blanket. I am thinking of moving a chunk of it into several separate 5-year CDs from Ally Bank, as they pay 1.60% APY (as of 10/25/13) and each would have a small early-withdrawal penalty of only 60 days interest.
Home Value
I am no longer using any internet home valuation tools to track home value. After using them for a year, I went back to simply taking a conservative estimate and focusing on mortgage payoff. After checking them again today, I am staying away. A house nearby sold recently for $500,000 but is listed at both Zillow and Coldwell Banker as being sold for $1,000,000. Needless to say, it is skewing my home value estimates!
It would seem that I am currently long on thoughts and short on action. Time to fix that.