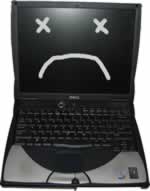 I spilled coffee on my Dell Inspiron 4150 laptop today. It made a sad sort of grunt, and shut itself off… apparently forever. I've used compressed air and dried it all day, all to no avail. This was actually my largest impulse buy ever, at about $1,200. I'm very sad, this laptop has served me well for four years, and was my sole computer for a long time. Of course I bought the three-year warranty, which was never used. I don't know if it covers spills anyways.
Now I'm considering my options:
Pay someone to fix it. Bringing it into a repair shop would probably cost $50 just for them to touch it… Then I'd have to pay for parts.
Fix it myself. Motherboards (if that is even what is broken) cost about $100 online. Probably not. Could it be another cheaper part? I don't know enough to figure it out.
Sell it as-is on eBay. After looking on eBay, I see that my model would still sell at a pretty good price if it worked – about $300 before shipping. This broken one without a hard drive actually sold for $225. I can probably get any critical information off the hard drive myself and sell that too.
Sell the parts individually on eBay. There are all kinds of separate parts on that I could sell separately – hard drive (wiped first), monitor, keyboard, touchpad, memory, AC adapter, dvd/cd drive, recovery CDs? I don't know if it would worth the hassle of dealing with possible returns as I can't really test the items anymore.
Any suggestions? I'm probably going to take this chance to upgrade to a new laptop, given that you can get a basic one for under $500 these days.