If you're a parent, student, or just someone looking to switch jobs, here's a list of the professions where you'll be least likely to become unemployed. Think of it as a career guide for the risk-averse or those who want the best odds.
The WSJ recently compiled a list of jobs and their 2011/2012 unemployment rates based on government labor data. In turn, Derek Thompson of The Atlantic used that data to screen for the jobs with the lowest, steady unemployment rates over that time period. The results: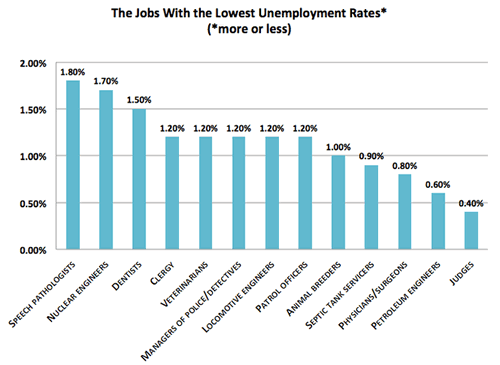 Source: The Atlantic, WSJ, BLS
The professional-school medical positions – physicians, dentists, veterinarians, do well as expected. Engineers are also well-represented (yes!). Some would say this supports the idea that an STEM (science, technology, engineering, and mathematics) skill set brings the best value. The medical positions also carefully manage how many graduates they produce each year (unlike law schools). But I'd also note that people should consider why septic tank repairers and animal breeders are also reliable professions (hard to be outsourced, can't be replaced by machines, etc).