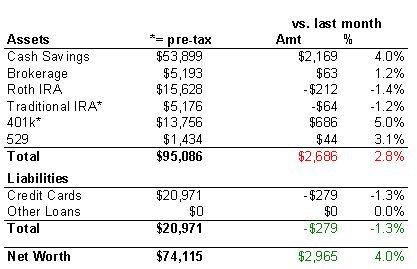 Before any of my newer readers get excited, let me say that all of my credit card debt is in the form of a 0% balance transfer. Please see all three of my posts (1,2,3) on this and the best 0% offers that I have found. No crazy interest payments here.
So another pretty solid month finance-wise. We did get a $1,000 tax refund, and promptly spent it with a week at DisneyWorld, which was fun. Actually these things shouldn't be connected, as one shouldn't necessarily feel obligated to spend their tax refund, but whatever.
Overall, our net worth increased $2,965 (almost the same as last month), and our non-retirement funds went up $2,555.
We are now $60,500 away from our mid-term goal of $100,000, with 26 months to go. That's $2,327 per month, and we are on track (for now). I am continuing my work with our budget, which is pretty cool, it's neat to get a better grasp of things on the finer level.