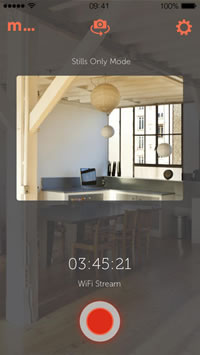 In order to keep an eye our house on longer trips as well as monitor our dogs anytime, we bought Samsung WiFi cameras a while ago that stream directly to our phones. We decided not to go with Dropcam in order to avoid recurring monthly fees. Our cams only record short clips onto Google Drive upon motion detection, but it is free and they work adequately for our needs.
A new app called Manything will turn any iPhone, iPad, or iPod with a camera into the same style of streaming WiFi webcam, complete with motion detection and saved video clips in the cloud (currently iOS only, Android in development). Found via ad on Daring Fireball. You can view live streams on your iPhone or computer, and it can send you app or e-mail alerts when there is motion detected.
Recently added was IFTTT support (not even available with Dropcam), which allows you to link the app with other services and networked devices like Philips Hue lightbulbs, Belkin WeMo and Google Nest. Via 9to5Mac and GigaOM, here are some examples of what you could do:
Start recording when I leave home, stop recording when I return
Start recording when the last family member leaves home
When motion detected outside the home, turn on Philips Hue lighting to look like someone's home
Start recording and send alert when Nest smoke alarm is activated
That sounds pretty neat. Right now, they are offering 30 days of continuous cloud recording for free. However, future pricing will include a free option limited to one device and 12 hours of recording. That's still good enough to serve as a free security camera. Unlimited live viewing and motion detection alerts will also stay free.
My experience. I played around with this app over this last weekend, but perhaps due to the recent press I found their Manything.com website to be very slow and unresponsive at times. The motion detection and alerts worked, but then I was unable to load up the saved clip, which was frustrating. I had better luck using the app directly to view clips.
Otherwise, viewing the live streams on my phone worked fine; The sound was clear and I counted about a 10 second delay. The app itself is relatively simple and easy to set up. I like being able to adjust the motion sensitivity and to block off specific areas where you should ignore motion. I wish you could change the sensitivity settings remotely however, right now you can only modify them on the actual camera.