Forbes has an article about how the share economy is taking off. The primary focus is on AirBNB, which lets you rent out a room in your home with ease and last year booked around 15 million nights of stays. I've written about some of these sites before, and while I mostly forgot about them, some people are going quite well with them. "Almost anything you can buy new, you can also rent from a stranger."
One person lives off of income generated by renting his house out whenever he can (while he cordons himself off to an unattached area). One person makes more money dog-sitting from home than working at Starbucks. One person rented his car out part-time for more than the monthly payments, so now he has three cars being rented out. Yet another drives his car around ridesharing every night and is basically a taxi service. These people may be the exception rather than the rule, but is it proof that the next generation of millennials really don't care about ownership anymore? Is it better to just have access to whatever you need when you want it? Peer-to-peer everything!
Here's an infographic from the print version of the article that lists sharing websites of all types from around the world, with the data source being Rachel Botsman of CollaborativeConsumption.com.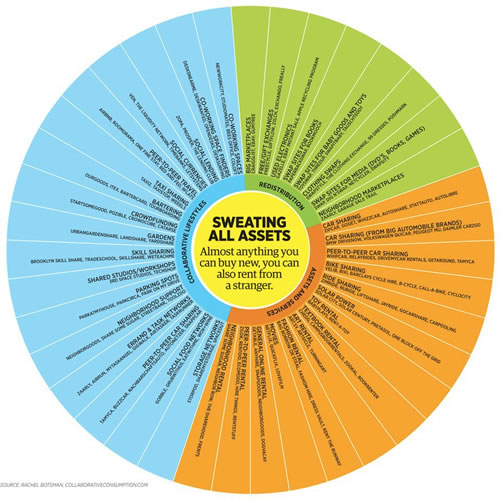 Here are links specifically dealing with sites that allow you to make money from your own stuff (US-focused only) – be it a room, a car, or your power tools: