LendingClub is supposed to provide me with an official response to my updated analysis of their loan performance numbers. Hopefully it will shed more light on how their advertised returns are calculated.
While I'm waiting for it, here is another chart I put together for prospective lenders using data from LendingClubStats.com, which pulls directly from LendingClub's own statistics database. The full term for LC loans are 36 months (3 years). This chart organizes all loans by their age, allowing you to compare new loans and old loans on a more equal basis. Only officially defaulted loans are included, not late loans with payments up to 120 days late. The numbers are sorted by credit grades A through G.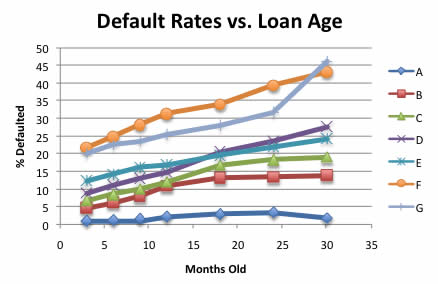 I'll let the numbers speak for themselves for now, and save my opinions for another time.
New Lender Incentives – Free $25 to $250 Bonus
If you are interested trying P2P lending with no risk, you can still use this special $25 lender sign-up link to get a free $25 to try it out with no future obligation. There is no credit check and you don't even have to deposit anything. After you are approved, the $25 will show up in your account balance, and you can lend it out immediately.
If you've done your research and are willing to jump in with both feet, those that are willing to invest at least $2,500 at once and link a bank account can get a $100 bonus when you get a referral from an existing member. (Yes, you must actually invest $2,500 in loans.) Send me an e-mail if interested.
You can also view my personal LendingClub portfolio details here.