For a long time, the my knowledge of bonds could be summed up in one sentence: Bonds are an IOU where you lend money to someone and they pay you interest plus your principal back eventually. There are many risks with bonds, and just two of them are credit risk and interest rate risk. Credit risk is the possibility that you won't be paid back. Interest rate risk is the fact that once you've bought a bond, the value of that bond varies with prevailing interest rates.
Why Bond Values Change With Interest Rates
Let's say you bought a bond from the US Treasury for $1,000 at pays 4% annual interest once a year ($40). What if the next day, market conditions change and now the US Treasury offers $1,000 bonds paying 5% interest ($50). Nobody would buy your bond for $1,000 anymore, they'd only pay $800 for it, since $40 is 5% of $800. This is why you may have read that bond prices tend to move in the opposite direction of interest rates.
So what's the next level of understanding? I think this recent Vanguard Blog article on bonds expands on things nicely. The primary point is that the impact of rising or falling rates on bond returns varies depending on time horizons and the duration of your bonds.
Maturity vs. Duration
When you look at the stats for a bond mutual fund, you'll see both average maturity and average duration. While a bond's maturity is how long before your principal is repaid, the fact that most bonds pay out regular interest payments (coupons) changes the actual sensitivity to interest rates. This is where average duration comes in – it takes into account the relative discounted cash flows to accurately measure price sensitivity with respect to interest rate. Short version: Look at duration, not just maturity.
Time Horizons
The table taken from the article shows how the impact of interest rates changes with time horizon. In this scenario, you have a bond fund with a duration of 5.8 years and an initial yield to maturity of 4%. Then we see what happens if rates either stay the same, rise to 6%, or drop to 2%. (Rates are assumed to change evenly over two years). As with most bond funds, the interest income is continuously reinvested into new bonds.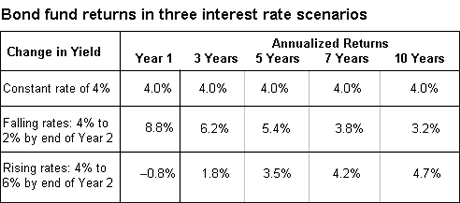 If your time horizon is a lot shorter than your duration, then we see that the major risk is rising interest rates. Rising rates can crush your returns, while falling rates can boost them. However, if your time horizon is a lot longer than your duration, then the larger risk is lower interest rates, because as you re-invest your interest payments into new bonds (with lower interest rates), those lower rates will hurt your return in the long run.
Another interest thing to notice is that if you held for the exact length of the duration, 5.8 years in this case, then your annualized return would be very close to your initial yield of 4%, regardless of whether rates rose or fell.
In general, if you're saving for a short-term goal, it may be wise to pick a duration that is also short enough so that interest rate swings won't wipe you out. If your time horizon is for a retirement that is decades away, then picking a duration for a bond fund is more about other factors than just predicting upcoming interest rates. Remember, future higher interest rates can actually help your long-term returns. For example, consider the balance between the increased volatility of long-term bonds with their higher long-term historical returns.