In 2007 I wrote about a site called Farecast.com that used past data to offer a prediction on whether airfares would rise or fall in the future. I even used it to book tickets a couple times. It was soon bought and absorbed by Bing Travel (Microsoft) for $115 million in 2008 and but it has recently been killed off and is no longer available. In a recent FiveThirtyEight.com article, Kaiser Fund tested out Kayak.com's own price prediction tool. It wasn't a broad survey – he tracked 32 different requests and tracked the prices until Kayak said to buy. Here are the results: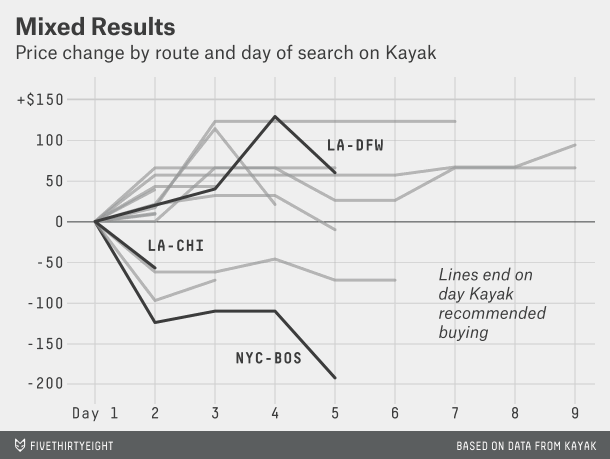 Out of those 32 requests, 17 resulted in immediate buy recommendations. Out of the remaining 15 that told him to wait at least one day, he eventually saved money only on 5 of them. Averaging out all the final purchase prices, they were actually 2% higher than if he just bought immediately. Fung qualifies his results by saying that even though it's technically a draw, the tool can help those people who would otherwise second-guess their decisions.
Given that there is only one price predictor tool left and it doesn't really seem to work all that well, I come to a different conclusion. I plan to take this knowledge and simply buy my tickets whenever the price is acceptable, saving both time and worry.