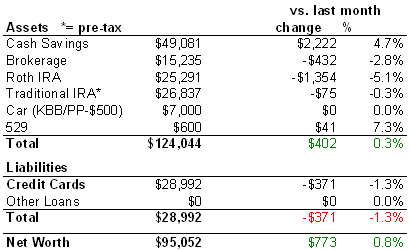 Intro
Newer readers may note some serious credit card debt going on above. Please see my posts on taking advantage of no fee 0% APR balance transfers for more information. In short, I'm borrowing the money for "free" and keeping it in safe investments while earning me interest. Some recent examples are my $9,000 from Citibank and $10,000 from Discover Card. Roughly, I'm earning 5% on $30,000, which is $1,500 of free money a year for doing nothing but paying bills on time.
Thoughts
At first glance, my net worth only increased $773 this month, a pretty mediocre if not subpar month for us. But the stock market had a dip this month, and our Roth IRAs took the biggest hit as they held our Large Cap and Emerging Markets funds. It may stress some people out to see $1,000+ disappear in a month, but it's all just part of the ride.
In actuality, our non-retirement funds went up $2,202 to $42,924 this month, a nice increase due to selling some advertising on this blog and also getting paid for some freelance work. I hope to make up even more ground on our goals this summer. My wife's raise will also take effect after this month.