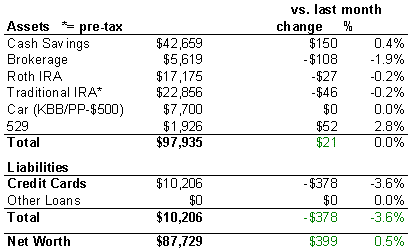 Intro
My large credit card debt is all at 0% APR interest. Please see my posts on taking advantage of no fee 0% APR balance transfers for more information. In short, I'm borrowing the money for "free" and keeping it in safe investments while earning me interest. I'm actually waiting on acquiring even more debt from two recent credit card applications.
Thoughts
We eeked by with some positive net worth change this month, since I had to pay the the insurance bills for 2 cars, rental insurance, and umbrella insurance for the next 6 months. In the end, our net worth increased about $400.
Looking closer, our non-retirement assets are now at $47,698, so we are about halfway to our Mid-Term goal, with about 18 months to go. Of course, I'm going to put $8,000 in a Roth IRA soon, so that will set us back some more. Reaching $100,000 in 18 months will be tough. But I plan on making the next few months much more profitable that than the past six.