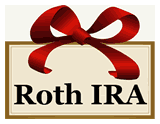 A few very forward-thinking readers have asked me about ways to help their kids or other young folks by giving them a Roth IRA. This seems like an awesome idea to grab them some tax-sheltered action. I've thought about this in passing, but never really did the research into the technicalities of it. One good article on this subject is over at Fairmark called Roth IRAs for Minors. Combine this with official IRS publications and a few magazine articles about employing your children, and here's what I found:
The Facts
There is no age requirement to open an IRA.
Many, but not all, IRA providers will allow you to setup an IRA account for minors.
The primary requirement is the child needs to have taxable earned income to make a contribution. So to make a $4,000 contribution, they would need $4,000 of income. Earned income means that dividend or interest payments don't count.
An important difference between IRAs and 529s is that once the child reaches 18 or so, they get complete control over the money and can do whatever they want with it.
The Payoff
How much money are we talking about? Umm.. a lot! From the Kiplinger article:
Let's assume you give your 15-year-old daughter $1,000 to fund a Roth IRA. If the money inside the account grows at an annual average rate of 8% — well below the long-term average return for stocks — that $1,000 will grow to about $47,000 over the 50 years it takes for today's teen to reach retirement age. If you added another $1,000 a year until she turned 20 -? and never added another dime — that initial $5,000 investment would be worth nearly $250,000 by her 65th birthday. With a Roth IRA, the full amount will be tax-free when it's withdrawn in retirement.
Now the question is how to obtain that taxable earned income?
Income From Non-Parental Employer
This is probably the most legitimate and straightforward way, also the hardest to get. Examples for small children might be acting or modeling from an agency not directly owned by the parents. For teens this could include money from tutoring, bagging groceries, or working at the movie theater. In addition, this income may be subject to payroll taxes like Medicare and Social Security Tax at 7.65%.
Income From Parents As Employer
Maybe you already run your own business, and could use the services of a child – web design? computer set-up or consulting? From the Fairmark article:

There have been a number of cases dealing with parents who paid children to work in the parent's business. None of them deal with the Roth IRA, though. These cases generally deal with the parent's deduction for the amount paid to the child. The Tax Court has recognized the deduction when it was convinced that the parents paid fair compensation for work actually performed in a real business. When the compensation was bogus or didn't relate to a business, the deduction wasn't allowed. Bogus compensation won't support a contribution to a Roth IRA, either.
Also, via IRS Pub 15 it looks like there is the ability to avoid payroll taxes:
Child employed by parents. Payments for the services of a child under age 18 who works for his or her parent in a trade or business are not subject to social security and Medicare taxes if the trade or business is a sole proprietorship or a partnership in which each partner is a parent of the child. If these payments are for work other than in a trade or business, such as domestic work in the parent's private home, they are not subject to social security and Medicare taxes until the child reaches age 21. […] Payments for the services of a child under age 21 who works for his or her parent, whether or not in a trade or business, are not subject to federal unemployment (FUTA) tax.
Income From Parents For Household Chores
This is where it gets a little dicey. According to the IRS, all income is taxable unless a specific exception is made. And there is no exception for money paid for household chores. So it would seem that counting such money as "earned income" would be fine. But when was the last time you heard of a parent giving their kid a W-2 or 1099 form for doing the dishes? It's an unofficial, but widely understood exception.
The Fairmark article argues that because it is an unsaid exemption to treat such income as untaxable, the IRS could disallow a parent treating it as taxable later on. If so, then the Roth IRA contribution by the minor would not be legit, making it an excess contribution and subject to all kinds of penalties.
Summary
There are a variety of ways that you can give a child some earned income, and therefore a Roth IRA. If they already have income from other sources, you're already in the clear. In the case of using "mowing the lawn" income as the basis for an Roth IRA contribution, the IRS has not issued any clear direction in this regard. You have to weigh the prospect of years of tax-free compounding with possible penalties and paperwork issues later on.
Anyways, I think if a kid has people asking these kinds of questions already for them, they are already pretty well off. 🙂
If you do take the plunge and open up an IRA for your child, visit Mint.com first so you can compare all of the different IRA accounts today's online brokers have to offer.