Shh… I've already opened up some of my Christmas gifts. Wait, what is this? A gift card? Nooo!!! Evil!
It's trendy to bag on gift cards right now. Liz Pulliam Weston says gift cards are not gifts and complains that "holidays have rapidly devolved into what amounts to an exchange of cash. A gift card says nothing about the personality of the recipient — but it says lots about the giver.". Miss Manners is quoted as saying they are "a pathetic compromise convenient to people who do not trust their judgment about selecting the right present for those whose tastes they ought to know." Consumer Reports even took out a full-page ad in the New York Times with the following message: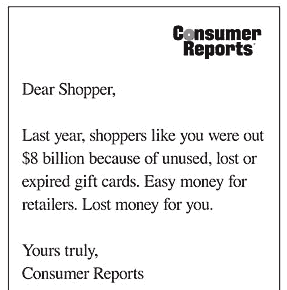 Umm… So? How many *gifts* go sitting unused every year?! How many sweaters, handmade widgets, DVDs, scented candles, or whatever sit in your house right now, collecting dust in a closet. How about just saying "Last year, shoppers like you were out $80 billion because of unused, lost, or inappropriate gifts. Easy money for retailers…"
Truth is, converting cash into gifts of any kind creates the potential for waste. If you don't want that, either (1) don't buy gifts at all or (2) give cash.
I agree with Mighty Bargain Hunter when he says that gift cards are gifts. And like any gift, it can be good or bad. You know what happens when I receive a gift? I say thank you, and do what I can with it. Even if it's hideous or not useful to me. I have mine all stored in baseball card sleeves ready to go.
Idea for gift card compromise?
First, pick something (doesn't have to be perfect) that is in the price range you want. Then figure out the exact price, including sales tax. Buy a gift card in that amount, and attach a card with an explanation. "I thought you might like Rayman Raving Rabbits 2 for the Wii. Here's a gift card for $54.86 from Best Buy". There, you put a little thought into it, but they can use it to buy anything without having to "reject" and return your actual gift.
Also, for the curious, I even investigated which gift cards have the highest resale value. The result was that Amazon gift certificates are the most versatile.
What's so bad about giving cash, anyhow?
Newsflash: In many cultures and households, giving cash is perfectly acceptable and in many cases even preferred. What are we pretending? That gifts don't cost money?! I give cash gifts all the time. For more formal gifts I go to the bank and request crisp $20 or $100 bills.