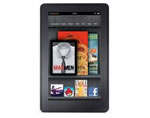 I already mentioned checking out library books on the Kindle eReader, but here are also some handy bookmarks to check regularly to find free content on the Amazon.com website:
Top 100 Free – Quick and easy, this just lists the popular free eBooks being downloaded at the moment. However, for business and finance books you may have to dig a bit.
Limited Time Free eBooks – List of books that are free for a limited time, and then often go back up in price. Grab 'em right away if they look interesting now, and decide whether or not to read them later.
Free Classics – List of books that are permanently free due to being old enough to be out-of-copyright, including several well-known classics
Want some suggestions? Here are my recent free downloads.
Reminder: You can read Kindle eBooks in almost any web browser, plus apps for PC, Mac, iPad, iPod Touch, and all major smartphones.