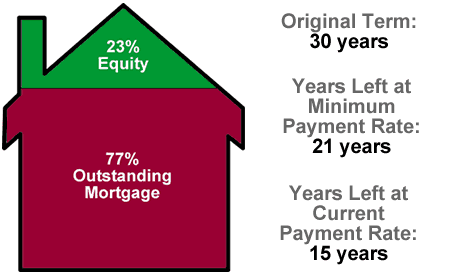 As part of tracking our financial status, I regularly check in to see how long it will take to pay off our home mortgage. Buying versus renting is a very personal decision, but we ended up buying our house three and a half years ago and still plan on staying in it for the foreseeable future. I see it as an inflation hedge (our mortgage payments won't go up) and paying it off quickly as an integral part of our early retirement plan (lower expenses means smaller portfolio needed).
We obtained a 30-year, fixed rate mortgage. Our current interest rate is 4.75%, after two rate modifications, which were basically low-cost refinances through our original lender that didn't need additional appraisals, etc. This way, we were able to advantage of dropping interest rates over the last few years.
Home Value Estimate
Good comps are still the best way to estimate your home value. Recently, a house very similar to ours was sold through a short sale by Bank of America for 92% of our original purchase price. The house is the same model with basically the same floorplan, original construction year, and is about 10 houses down from us on the same street. The main difference was that it was in worse condition in terms of interior updates and deferred maintenance. We feel this puts a pretty good floor on the current value of our house, although I like to subtract another 6% due to broker costs if we really did sell. This gives us a current value of 86% of our original purchase price. Definitely not great, but it could be worse, and we aren't underwater.
You can also try internet valuation tools such as Zillow, Cyberhomes, Coldwell Banker, and Bank of America (old version). After using them for a year, I found them to be interesting but imprecise tools.
Remaining Mortgage Balance
On top of our normal mortgage payments, we've been making sporadic additional payments directly towards principal. Our current mortgage balance is 66% of the original purchase price, 77% of the value estimate above, and 82% of the original loan value (we put 20% down).
We've had the mortgage for 3.5 years, but we can calculate "how far" we're actually into our mortgage by comparing the remaining balance and the remaining principal on a regular 30-year amortization. You can get this amortization table from many online mortgage calculators. Currently, we are at the same remaining balance as if we were 9 years into a normal 30-year amortization. This means if we just pay the "minimum" mortgage payment amount based on a 30-year paydown from here on out, we'll have 21 years left until the loan is paid in full. Not bad, already cut over 5 years off the end. 🙂
Several months ago, we set up a regular additional principal payment of 25% of the normal 30-year payment (i.e. $500 on a $2,000 payment). This automation makes our monthly budgeting easier. According to this mortgage payoff calculator, this puts us on track to pay off the loan in only 15 years (another 6 years early). Ideally, if all goes well I would like to shave this down into the 10-year range.
Looking back, it would have saved me some interest to simply go with a 15-year mortgage initially. However, the 30-year option gave me more flexibility with lower payments back then and even now, so I don't regret the decision all that much. I do recommend people using a 15-year mortgage to determine if you can "afford" a house to my friends now, because a 30-year mortgage just seems so long.