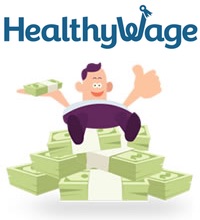 After reading academic studies which found that financial incentives were effective in helping people lose weight, I joined both DietBet* and HealthWage in early 2015. This week, I received my winnings from my individual "Healthy Wager" bet at HealthyWage.com. You tell them your body details, how much you want to bet, how much you want to lose, and they'll calculate what prize to offer you. This is my final review of the entire process, including some helpful tips and a comparison with similar site DietBet.
(* See my separate DietBet Review.)
My original HealthyWage offer was for $100 a month times 9 months = $900 total, for a potential win of $100 (11.1% payout). This was based on losing 10% of my initial weight (~20 lbs) over 9 months (2/2 to 11/3/15). However, Healthywage issues 1099-MISC forms for your total gross winnings (initial bet + profit) when at or over $600. After learning about this, I asked them to adjust my bet so I would remain under this amount. I had already made my first $100 monthly bet, but all future bets were then set to $50. I had already started the bet, so I appreciated this courtesy. Now my total bets would add up to $100 x 1 month plus $50 x 8 months = $500. Times the same 11.1% payout, my total winnings would be $555.56.
Honestly, risking $500 to win $50 didn't feel like a very good risk/reward ratio, but I wanted both the extra motivation and the ability to compare the two services. Back in 2011, Healthwage used to have a "double down" bet where participants put $150 on the line and won $300 if they lost 10% of their weight over 6 months. I guess they found that to be too generous, as I no longer see it as available.
Initial weigh-in verification. There are three ways to verify your weight:
Video Verification. Smartphone video using your personal scale. The most popular option, and the one that I chose.
Verification by a Fitness or Health Professional – Bring a form to your "local gym, pharmacies, corporate wellness clinics, walk-in clinics, HR reps, nurses, your personal doctor, your personal trainer or your chiropractor."
Verification at a Weight Watchers Meeting.
I followed their directions carefully, uploaded my video, and both my initial and final videos were accepted with no issues or additional requests.
Very little ongoing support during the challenge. Every month since February, I would see a $50 charge on my credit card bill from Healthwage. However, that was about it. There were no regular e-mail updates. No interim weigh-ins. No fun tokens or prize giveaways. No smartphone app. No encouraging quotes or success stories. No interaction at all.
Upon initial sign-up, I was given my 2-week window for final weigh-in (October 20th to November 3rd, 2015). HealthyWage's two-week window is definitely more generous than DietBet's 48-hour window, with the important difference that I was never sent any reminders by HealthyWage when the time actually came. In comparison, Dietbet sent me multiple reminders beforehand. Now, I had the date marked on my digital calendar with several alerts, so I completed my weigh-in by the second day of the window. It is quite possible that if I waited until closer to the final deadline, I would have gotten a reminder. But I wouldn't rely on it. I got the feeling that they wouldn't mind if you forgot about that final weigh-in.
This brings me to the important structural difference between HealthyWage and DietBet. DietBet collects participants into groups and then takes a cut from the pooled bets. The winners of each group then split the money from the losers, so that Dietbet makes the same commission amount, no matter how many people win or lose. HealthyWage, on the other hand, makes one-on-one bets with individuals. So whether you win or lose does affect their bottom line. HealthWage is more strict in its final verification requirements (see below), and in my humble opinion this structural difference is the cause.
Extra final verification hoops. Upon final weight verification, you'll have to submit the verification video again (see above). But that's not all. I also had to locate and upload a "before photo" and an "after photo", which could be any photo from "around the time" of the start and end of the challenge. I also had to upload a scan of my driver's license. Here's a screenshot of their page asking for additional information. Note the final line in red letters:
Please note, this is you last chance to avoid scrutiny of your account. If you have cheated, do not proceed.
Not exactly giving off the warm fuzzies, are we?
Finally, despite my desire to avoid receiving a 1099-MISC, I successfully referred a few people to Healthwage and received $240 of extra money added my "pot". (I had to win the challenge in order to get this money.) Since I did win and my final amount was now above $600, I had to provide them with my Social Security number in order for them to fill out the 1099.
Final payout options. There are two options to receive your winnings. A mailed check takes 3-4 weeks to process, with no fee. The other "fast" option is PayPal, which charges a 3% fee. I picked the PayPal option because I didn't want to wait around for a check. However, they later clarified that it would still take 3-5 business days for Paypal transfer. The 3% fee is actually taken out by PayPal, so HealthyWage actually sends the full amount (they just choose not to subsidize the fee). In retrospect, maybe I should have just waited for the check. Here's a screenshot:

Summary and recommendations. I committed to a Healthywage bet to lose 10% of my initial weight over 9 months. I completed my initial and final weight verifications without hassle, won the bet, and was paid my winnings. However, the process felt rather sterile and business-like. I put $500 at risk and won $55, for a payout ratio of 11%. I also won a bit extra due to referring others.
In comparison, DietBet had a much more online interaction, regular e-mail communication, and a useful smartphone app. It felt more like a friendly, supportive game. I was only able to bet $150 total, but I won $129. That's a payout ratio of 93% (variable, not guaranteed). This was for a 10% weight loss bet over a shorter period of 6 months.
Both Healthywage and DietBet paid out and fulfilled all of their promises and obligations. My recommendation is that for more fun and most likely better payout odds, I would join DietBet first. If you want extra motivation and the ability to risk more money and thus possibly win more money, add a concurrent HealthyWage bet as well. If I had kept my initial $100 a month bet commitment, my total winnings from both sites would have been nearly $250.