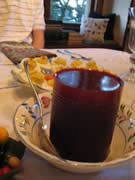 Thanksgiving rocks. I couldn't care less about the arguments about the true origins of this holiday, I just like how we celebrate it now. You actually try to use your kitchen and are suddenly okay with inviting strangers (okay, friends of friends of friends) into your home. No gifts, no Hallmark cards, no crazy decorations, no costumes, no excess crap.
Most importantly, today you actually appreciate what you already have, instead of focusing on what you want. It's very ironic that the day after Thanksgiving has been twisted into the exact opposite.
And yes, I love cranberry sauce from a can!!
By Jonathan Ping | Family | 11/22/07, 1:15am