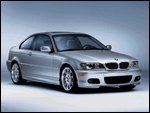 So I just saw a new purchase of a co-worker: a Metallic Black 2005 BMW 330Ci with Performance Package (basically the M3 minus the 333HP motor). We're talking a $45,000 MSRP car here. And this is no GM $3k-below-invoice vehicle, this car commands MSRP. Envious? Uh, Yes. I like cars, but my 95 Nissan is all stock, and my only indulgence is my $10/yr Car and Driver subscription.
According to BMWUSA.com, I can lease this puppy for $2,500 down and $540 a month. I can swing that, right?
[Insert text about how this is a bad idea here.] I still want one.

He's single, owns his 1 bedroom condo, and is pretty well set in his career, so I can't fault him for it I suppose. No kids, no dependents, no obligations to worry about.
My fantasy is to order one of these through BMW's European Delivery Program, spend 6 months driving around Europe's Autobahn in it, and then bring it back home to get stuck in highway traffic. It can even be cheaper than buying it in the states, if you are going for a high-demand model. Excuse me while I wipe the drool off my keyboard and try to get back to work.
(Ever wonder where the phrase "green with envy" came from?)