You can now use the search engine to find homes for sale, rent, or even those in foreclosure. To try it yourself, just type in "Portland real estate" or "Home for sale in Chicago" into Google. You'll see something like this:
Which then leads to you the results: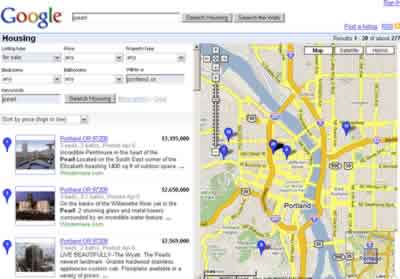 From the Google Blog announcement:
When you want more information on a particular home, you can click straight through to the source of the listing?no detail pages or sign-up forms get in the way. And when Google gets the same listing from multiple sources, we show links to all the data providers and websites, ranked according to many factors including, but not limited to, the quality and comprehensiveness of the data…. We don't sell houses, deal with agents' compensation, or charge for leads. Our business is helping people find the information they're looking for?when you have it, we send them directly to you.
I just tried it, and I while it's not revolutionary, I did find a few houses that weren't on the MLS and on some smaller For Sale By Owner websites that would be otherwise hard to find. I also like being able to see the locations on Google Maps. I wonder if this will help push the MLS to be more open, which would be helpful for potential homebuyers.