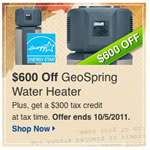 I'm normally not excited by water heaters, but I do love the idea of investing small money upfront to lower my expenses and save big money in the future. We currently have a 10-year old electric water heater which I'd like to replace soon due to age and inadequate size. We live in a warmer climate and thus considered a solar hot water heater, but the combination of cost and having to cut and install water pipes through our roof didn't sound especially fun. I just saw that until October 5th, Lowe's is selling the GE GeoSpring 50-Gallon Hybrid Electric Water Heater for $999. Currently, both GEAppliances.com and Sears also have it at $999. If you can get free delivery in your area, one may be cheaper than the other. Both Lowe's and Sears offer another 5% off if you have their store credit card.
Tax credits. There is a Federal tax credit of $300 available on electric heat pump water heaters. In addition, check for state energy rebates here, and you may get even more back (look carefully, as many states have already exhausted their rebate funding). Without anything local available for me, this makes the net cost $700. A conventional 50 gallon electric heater with a shorter warranty can be found for about $300, with a 9+ year warranty runs about $400. This makes the cost difference with no state credits to be no more than $400. Both could be installed yourself if you're handy, otherwise installation is extra.
Potential $2,400 in savings. With average electric cost assumptions, this heater is supposed to save about $25 a month, or $320 a year in electricity costs. If you have your electric bill handy, you can do the math yourself as a 50-gallon standard electric tank water heater uses about 4881 kWh per year vs. the GE Hybrid water heater at 1856 kWh per year. Using their standard numbers, this hybrid system would pay for itself less than two years. Assuming a 10-year usage, you would then have 8 years x $300 a year = $2,400 of potential total savings.
What's a hybrid water heater? It's called a hybrid because it can heat up your water using a heat pump as well as the conventional electric resistance coil. I was having flashbacks to my thermodynamics college courses while learning about it, but essentially a heat pump takes the heat from ambient air and transfers it into the water. This is kind of like an air conditioner in reverse, which takes the heat in the air and moves it outside with the aid of a refrigerant like Freon. The heat pump is more energy efficient than the electric coil, but slower, so the coil is still there as a backup during times of high demand. A heat pump works better in warmer climates, as there is more heat in the air. You'll also end up with condensation which will need a drain unless you want to empty out a water pan every few days.
The added complexity of the heat pump does make for more things to go wrong, which is why I suppose it comes with a rather long warranty. It is worth the upfront investment? I think so for us, but I'll haven't fully run the numbers on a similar whole-house tankless system. Thoughts?