An article this week on GetRichSlowly about frequent flier program basics mentioned a WSJ article that I've never seen about which airlines make it easiest for you to redeem your miles. The research was done by a consulting firm IdeaWorks Co, which looked for awards equivalent to a domestic roundtrip flight using 25,000 miles "saver" award level. Here are the results: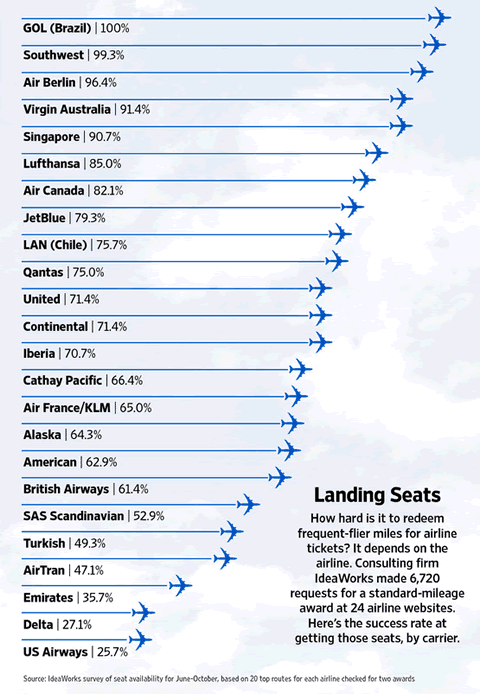 JetBlue (79%) and Southwest (99%) are tops for domestic carriers. Alaska, American, Continental, and United all had seats available at least 60% of the time or better. Delta and US Airways were at the bottom of the list, with flights up for grabs only 1 out of 4 tries. I've mentioned that my parents are served by Delta and I've definitely wrestled with them over award flights, and only by booking well ahead of time and being flexible we've still managed to get by.
I have no real loyalty towards any airline, which is why I still prefer the flexibility of the Starwood American Express card for racking up my miles and hotel points. I use it for hotels whenever I can, but also to top off my accounts when I finally reach an award I want to redeem. I'm glad there are articles like these to publicly shame airlines like Delta into improving their awards availability.