I ended up ordering a FreedomPop mobile hotspot last week for the 500 mb in free wireless internet each money, and have been playing with it for a couple of days. Here's a review including what came in the box, hotspot size comparison, download speed test results, and my overall initial impressions of the service.
Unboxing. The mobile hotspot "hockey puck" shipped the next day after ordering, and arrived a few days after that. Inside the box was the hotspot, a USB charging cable, and a USB AC adapter. The charging cable port appears to be the micro-USB standard size. I included a credit card for size comparison.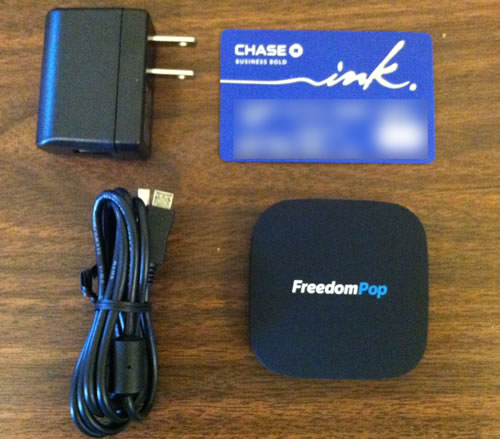 The hotspot is quite small and fits in a pocket or purse nicely. I placed it next to a naked iPhone 4 for width and thickness comparison. I'd say it is about the size of half a modern smartphone and the same thickness.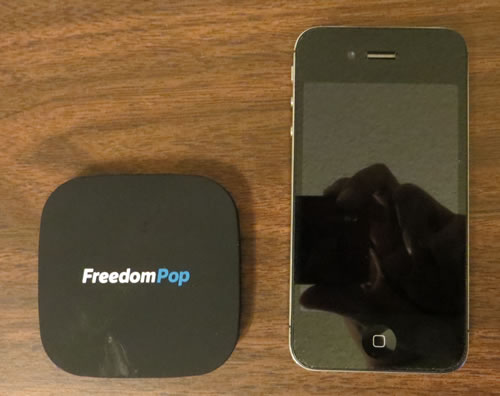 The unit does a pretty good job conveying a lot of useful information in a small package. The power LED changes color to indicate low, medium, or high battery charge. The WiFi LED indicates either users connected or no users connected. The 4G LED indicates searching, weak, good, or excellent signal strength.
Setup. The hotspot came pre-charged, just turn it on and go. The default name of the WiFi network and the WiFi password are printed on the unit itself. Once connected via WiFi, you can change the settings by visiting 192.168.1.1 in your web browser. The default password for the control panel is "admin". You'll want to change both the WiFi password and the control panel password for security reasons. Other than that, it works right away.
Download Speeds. I'm sure download speeds will vary for everyone, but here are my results from SpeedTest.net. Over multiple tries over 2 days, I achieved an average download speed of about 1.2 Mbps down and 0.5 Mbps up using the 4G Clearwire WiMax hotspot. That's actually about 50% slower than the 3G cellular data speeds on my iPhone, and much slower than my home broadband connection. Not that impressive for "4G" with "good" or "excellent" signal strength according to the indicator lights. I didn't pay the extra fee for their "Speed Plus" option, so there may be some throttling going on for us free users.
WiFi-only and iPod Touch users. If you have an off-contract smartphone or iPod Touch and you only want to use the free data for voice calls with no monthly bills at all, you can do it. I tested both the Vonage Mobile and Talkatone free iOS apps and made outgoing calls successfully if a little grainy. If you buy the $3 GV Connect app, you can also receive phone calls using your Google Voice number. I'd guesstimate 500 mb will get you around 200-400 minutes.
Initial Impressions. The hotspot size is great; I'd actually prefer it over an iPhone or iPod Touch sleeve. The download speeds are somewhat disappointing, but for casual usage it should be fine. In the end, this is not a premium product, but a discount service with a few gotchas for those looking to minimize their monthly bills. (An eagle-eyed reader pointed out that the $89 refundable deposit is only refundable within the first 12 months, and will be pro-rated so you'll probably be out around $15 to $20 even if you return it with a month or two.) If you combine a used smartphone with WiFi + a cheap prepaid carrier + FreedomPop + casual usage, you could probably have a little bit of everything for well under $20 a month. Is it worth the effort? Up to you.