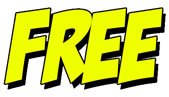 Cell phone service seems to get cheaper each year. I still remember when a great deal was $40 a month for 1,000 minutes with no text and no data. So what about FREE cellular service? Well, it's here, but with a few important catches…
FreedomPop just rolled out a new cell phone service on a freemium model. That means they have a free option, in the hopes that enough people will pay up for various upgrades to make a profit. You may know the name from their 4G data hotspots that offered 500mb a month of data for free. I bought one, but ended up returning it as it didn't fit my needs (and like other folks was charged about $15 in unexplained fees). Here are the details of this new venture:
Phone. The only phone currently available is an HTC EVO Design 4G for $99. Pretty basic Android phone. Older model, came out in late 2011/early 2012. Online reviews state that it's pretty thick in size, 4″ screen is pretty good, battery life is below average.
Service. Everything works using cellular data only using VoIP software. Primary is Sprint/Clearwire WiMax 4G data coverage, backup is Sprint 3G data coverage. Your coverage may be very limited. See coverage maps here and here. Voice quality over 3G may be spotty.
Free Plan Details. For $0 a month, you'll get 200 minutes, 500 texts, and 500 mb of 3G/4G data. Additional use past that is charged as data, at 2.5 cents per MB ($25 per GB). Voicemail is $2.50 per month extra.
"Unlimited Plan" Details. For $10.99 a month, you'll get unlimited voice minutes, unlimited texts, and 500 mb of 3G/4G data. Additional data costs 2.5 cents per MB ($25 per GB). Voicemail is $2.50 per month extra.

(click to enlarge)
The main concern with this service is coverage. Freedompop will filter you out via address, as they want to make sure you're in a good WiMax coverage area and won't sell you a phone otherwise. Having used SIP/VoIP on the T-Mobile network, I'm skeptical of the voice quality at Sprint 3G speeds. Even at 4G, I would be very wary of delays and echos when moving around. Sprint is no longer expanding their 4G WiMax networks, as they are shifting towards 4G LTE. In fact, it is widely suspected that Sprint may shut it down entirely in the future as their contract ends in 2015.
This service is just too barebones for me as I want solid voice service, but I still tried out the checkout process. I declined a 1-month extra data free trial, but was still able to get another free 500mb offer at checkout (see screenshot below). Shipping is $6.99 with delivery claimed in 1-2 weeks. It's unclear if this is ongoing every month or for just one month, but I'm assuming it's ongoing. It is also not clear if any taxes will be added on to the free monthly plan.