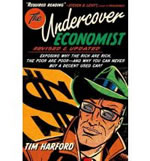 Writer Tim Harford recently published a newly revised edition of his book The Undercover Economist. I read the first edition in 2009 and definitely enjoyed how it explained economics using everyday occurrences. I wrote about two memorable examples: price targeting and coffee shops, and the efficient market hypothesis and supermarket lines.
According to Harford himself, the biggest change in the new edition is a new chapter about eggs, probabilities, and the financial crisis (naturally). As a favor to those of us who already have the first edition, he has kindly put the new chapter as a free PDF download. I've read it already and it was worth the time spent even though the subject has already been covered extensively.
Hat tip to MR. Harford also has a handy website that republishes the articles he writes for The Financial Times.