Crown Financial Ministries is a Christian ministry with the mission of teaching financial principles which they believe are based on the Bible. I'm not very familiar with them, but they seem to be best known for their Money Life radio program. Their message focuses on removing all forms of debt, which strikes me as similar to Dave Ramsey.
Another central part of their curriculum is what they call the Crown Money Map, and it is currently free for a limited time. (Retail is $3.) New visitors can receive it either as a PDF or paper copy via snail mail. I thought it was worth a look.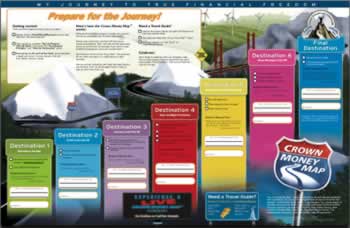 Here's a quick overview of their steps to financial freedom, which they call "destinations". It is meant to be put on display and used interactively as a visual guide and reminder system.
Destination 1 – Emergency Savings
Destination 2 – Credit Cards Paid Off
Destination 3 – Consumer Debt Paid Off
Destination 4 – Save for Major Purchases
Destination 5 – Buy Home and Begin Investing
Destination 6 – Home Mortgage Paid Off
Final Destination – True Financial Freedom