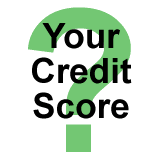 Updated for 2015. I always check all of my credit reports at the beginning of the year, but I also track my credit activity year-round with free credit scores from all 3 bureaus for free.
The government allows you to get a free credit report once every 12 months from AnnualCreditReport.com. But what about your numerical credit score? Here is a compilation of different ways to grab a free credit score without the hassle of annoying trial offers or providing a credit card. The goal: No free trial membership required, no credit card number required, nothing to cancel. Here are the best options I could find.
Remember, everyone has three credit scores, one from each of the three major credit bureaus: Experian, Equifax, TransUnion.
Credit Sesame is an ad-supported site that offers you a free credit score based on your Experian credit report. Updates once a month. Range is from 300-850. They also offer free credit monitoring of changes to your credit report.
You will need to provide your personal information and Social Security number to some of these companies, naturally, so be comfortable with that. None of these methods by themselves will affect your credit score as you are requesting them for yourself.
And now, for a limited time, Credit Sesame is offering $50,000 in identity theft insurance and access to identity restoration help for FREE.
Quizzle
Quizzle.com is an ad-supported site that offers a free credit score based on your Equifax credit report, called a VantageScore credit score, updated once every 6 months. You also get a free copy of your Equifax credit score once every six months. Twice a year is less often than other services and makes it harder to track credit improvement, but hey it's still free. The score scale is also 300-850.
CreditKarma
CreditKarma.com is an ad-supported site that offers you the ability to check your credit score based on your TransUnion credit report, updated every week for free. The score range is the same as FICO, from 300-850. They offer insights into improving your credit score, and you can also opt-in to free daily credit monitoring.
Free TransUnion FICO from Discover it Card
The new Discover it® Card offers you a free FICO score based on your TransUnion credit report once every month with your statement. The card has no annual fee and includes features like 5% cash back on rotating categories and no foreign transaction fees. A good rewards credit card with no annual fee, plus a free FICO score baked in.
Cheap Equifax FICO from myFICO
Alternatively, if you want an official FICO score on the cheap, you can sign up for a month of ScoreWatch at MyFICO.com for $4.95. You'll get an instant free Equifax credit report and Equifax FICO credit score. You'll need a credit card. You must call 1.888.577.5978 to cancel within that first month, although you may be able to do it online as well. My recommendation is to get your credit report and credit score, print or save to PDF, and then cancel immediately afterward on the same day so that you won't forget later. Hours (PDT) M-F 6am-6pm, Sat 7am-4pm, Sun Closed.