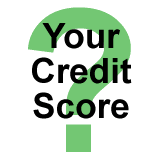 Updated. It's time again to try and check my credit scores from all 3 bureaus for free. You probably know about AnnualCreditReport.com for free credit reports. But what about your numerical credit score? If you want some relative comparison of your creditworthiness, here is a compilation of different ways to grab a free credit score without the hassle of annoying trial offers or providing a credit card. The goal: No free trial membership required, no credit card number required, nothing to cancel. Here are the best options I could find.
Remember, everyone has three credit scores, one from each of the three major credit bureaus: Experian, Equifax, TransUnion.
Credit Sesame
Every month, Credit Sesame can offer you a credit score based on your Experian credit report, ranging from 300-850. They also offer tips to improve your score and qualify for a mortgage. Here's a screenshot of my current credit score.
New: You can also opt-in to free daily credit monitoring of your Experian credit data at Credit Sesame.
CreditKarma
CreditKarma.com is an ad-supported site that offers you the ability to check your credit score based on your TransUnion credit report, updated every week for free. The score range is the same as FICO, from 300-850. You don't get your credit report details, but you do get a few tips on what recent changes to your credit report have impacted your score.
New: You can also opt-in to free daily credit monitoring of your TransUnion credit data at Credit Karma.
Equifax Credit Score Card
The Equifax Credit Score card is no longer available. There are currently no known methods to get a free credit score with no trials based on your Equifax credit report.
However, if you sign up for a free 10-day trial at MyFICO.com, you'll get a free Equifax credit report and Equifax FICO credit score. You'll need a credit card. You must call 1.888.577.5978 to cancel, although you may be able to do it online as well. My recommendation is to get your credit report and credit score, print or save to PDF, and then cancel immediately afterward on the same day so that you won't forget later. Hours (PDT) M-F 6am-6pm, Sat 7am-4pm, Sun Closed.
Quizzle
Quizzle.com offers what they call a free "CE Credit Score", also based on your Experian credit report, but only once every 6 months. The score scale is also 300-850.
Walmart Credit Card
I know many people may not be fans, but Walmart offers a self-branded credit card that offers you a free monthly FICO score (TransUnion) when you enroll in electronic statements online. The card itself is not all that special, with a below-average rewards program and users reporting getting credit limits as low as $150. Note that the gas reward is only 5 cents per gallon, not 5 percent. Also note that applying for a credit card will affect your credit score as you are applying for credit.
LendingClub Person-to-Person Lending
Similar to Prosper, if you start an application to become a borrower at LendingClub.com they will check your credit on your behalf (again, this means it doesn't hurt your credit score) to find out what rate they will charge you. Look up your 36-month APR rate quote on this reference chart to find out your assigned grade, i.e. "A2″ or "B3″. Then you can use the table below to determine your credit score range. For example, A2 would indicate a score range of 747-769. It is also based on your TransUnion credit report.
You will need to provide your personal information and Social Security number to some of these companies, naturally, so be comfortable with that. None of these methods by themselves will affect your credit score as you are requesting them for yourself.
By Jonathan Ping (Google+) | Credit Cards, Debt | 10/17/13, 2:54pm